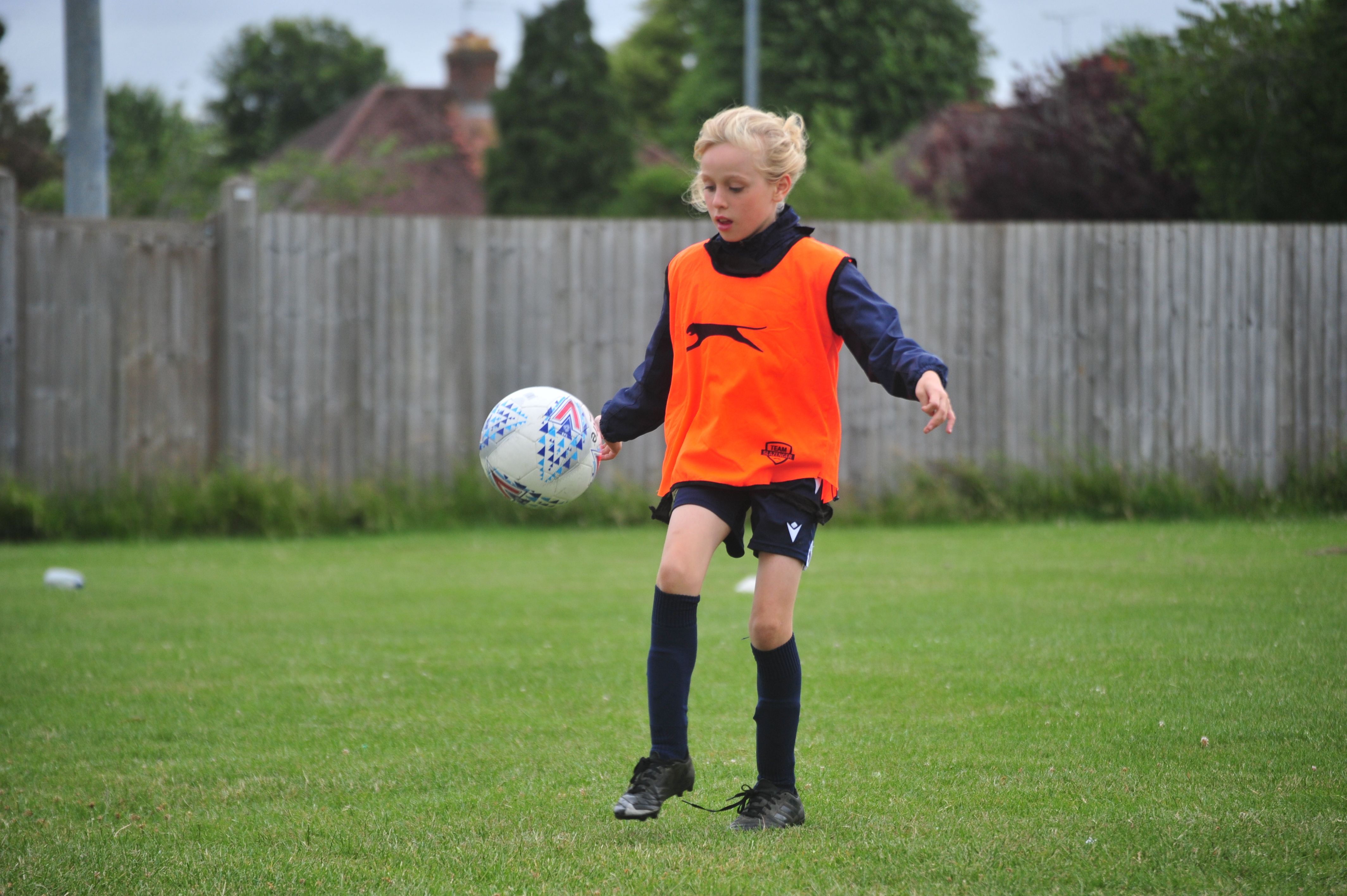 The 2023 FIFA Women's World Cup is underway!
And as England prepare for their second group stage fixture against Denmark, the team at Oxford United in the Community is ready for a packed summer and autumn of football programmes and courses open to females of all ages, backgrounds and experiences.
Almost 365 days have passed since Sarina Wiegman's team made history at a sold-out Wembley Stadium when beating Germany 2-1 in the European Championship Final.
Their success has only contributed to the exponential growth women's football has experienced in the UK in recent years. We've witnessed this boom period first-hand and have consequently expanded our provision base to include a number of female-only activities.
Here is how you can get involved!
Girls Only Summer Camps!
Where? The Oxford Academy School, Sandy Lane West, Oxford.
When? July 31 – August 4, August 7 – 11, August 21 – 25 (9am – 3pm).
Who? Open to girls aged four-13. All abilities and experiences welcome!
New for summer 2023 is our Girls Only Summer Camps, held at the Oxford Academy in Littlemore!
These camps will be managed by our Lead Community Coach Rob Porter and are suitable for players of all abilities and experiences. We'll teach new skills and techniques in an open and supportive environment while helping participants to build new connections with likeminded young players.
Sound like fun? Click here to sign-up to one – or more – of our Girls Only Summer Camps!
Premier League Kicks!
Where? The Hill Community Centre, Banbury. Other venue TBC.
When? Every Friday during term time.
Who? Schools years 5-8 (mixed sessions) 4.30pm-5.30pm @ The Hill Community Centre, school years 9-13 (mixed sessions) 7pm-8pm @ Venue TBC , school years 6-11 (girls only) 5:45pm-6:45pm @ The Hill Community Centre.
Premier League Kicks is a free, fast-flowing, football-based youth engagement programme which brings young people together to play sport, socialise and meet likeminded people.
Spaces are limited, but fully funded – meaning you don't have to pay a penny for your child to attend! Delivery seeks to achieve four player specific goals including:
Enhancing participants' physical and mental wellbeing, including self-esteem, ambition and social skills.
Inspire young people to develop positive, supportive, relationships with one another and key authorities.
Promote integrity and champion equality, diversity and inclusion.
You can read more about Premier League Kicks by clicking here!
Development Centre
Where? Oxford United Training Ground, Horspath, Cowley, Oxford (Tuesdays)
The Oxford Academy School, Sandy Lane West, Littlemore, Oxford (Fridays)
When? U10 & U12 – 6:30pm – 8:00pm – Every Tuesday during term time.
U14 & U16 – 5:00pm – 6:30pm – Every Friday during term time.
Who? Access is invitation only with squads running from U7s up to U16s.
Oxford United in the Community's development centre operates female squads from U7s right up until U16s!
The Development Centre is a 36-week term time training programme which allows participants to train in a team environment while improving individual ability plus their technical and tactical knowledge of the game.
Fixtures against other professional clubs' development centres are organised and players are invited to our skills centre, holiday camp, after school club and school tournament provisions.
Some graduates of our Development Centre even take their touchpoint with football to the next level by completing the first steps in becoming one of our excellent community coaches. You can read more about this in the story below!
READ MORE: Development Centre graduates take their first steps into coaching with Oxford United in the Community.
Manor Club
Where? Cowley Workers' Social Club, Cowley, Oxford.
When? First Wednesday of the month from September until April from midday.
Who? Everyone aged 50 or older is welcome to attend!
Launched in 2017, The Manor Club is a monthly event delivered exclusively for older residents and United fans living in the Eastern Arch of the city to meet up and socialise.
A guest speaker – often a United legend – will lead the afternoon's entertainment with a special Q&A while lunch is included with all tickets that are purchased.
This year's Manor Club resumes in September with a programme of guest speakers set to be confirmed shortly!
You can read more about our Manor Club delivery here.
Newsletter
Sign up to the OUitC newsletter today to receive the latest news, events, information and offers directly to your inbox.