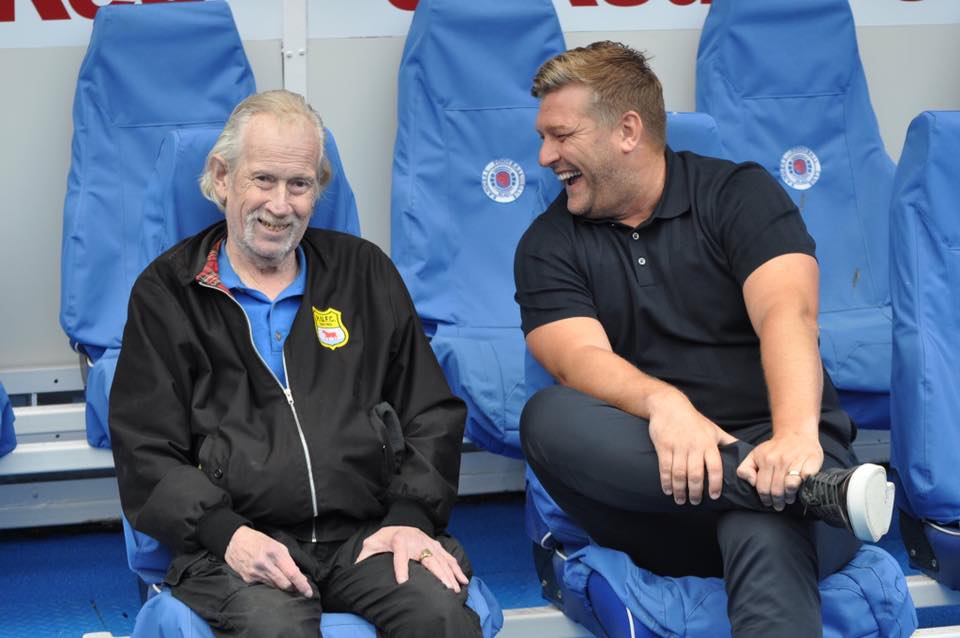 Legendary Oxford United supporter Andy 'Womble' James has left a parting gift to the club he so dearly loved three years after his death by supporting the work of its official charity.
Oxford United in the Community received a £2,000 posthumous donation from Womble, who passed away in October 2019 following a brave fight against cancer.
The U's legend was a great friend to everyone at Oxford United including supporters, players, members of management and backroom staff.
Womble's donation has been committed to support Premier League Kicks – a national programme delivered locally by Oxford United in the Community which brings young people together to socialise and build positive relationships through the power of football.
Womble's nephew Stuart Hudson transferred the funds on behalf of his family.
He said: "Andy's whole life was Oxford United and football. He never missed a game – and when he did it was such a big deal that the local media would pick up on it.
"We decided it would be appropriate to make a donation from Andy using his leftover funds to a cause that would have meant a lot to him personally.
"We were so touched by the tributes and outpouring of love to 'Womble' when he died, and we hope this final gift can help make a positive difference to Oxford United in the Community's Premier League Kicks programme.
"As a family, we're really pleased to see the money donated to such an important cause."
Launched in 2006, Premier League Kicks works with participants aged 8-18 of all backgrounds and abilities by engaging them with sport, coaching, music, educational and personal development sessions.
Today, the programme is delivered by 90 Premier League, EFL and National League clubs at over 700 venues across the UK and has engaged over 175,000 people in the last three years.
Oxford United in the Community has collaborated with local councils, Thames Valley Police plus primary and secondary schools to help youngsters in Oxfordshire find routes into education, training and employment.
Head of Charity Chris Lowes said: "Our Premier League Kicks delivery epitomises how we can use the Oxford United badge to build happier, healthier and better-connected communities in Oxfordshire.
"Often, inspiration and having a purpose to fulfil their true potential is the only motivation young people need to improve their wellbeing and develop positive aspirations for their futures.
"We are truly grateful to Womble for this generous parting gift following a lifetime supporting Oxford United where he became one of the club's most loyal and recognisable supporters.
"Womble's donation will go a long way in ensuring our Premier League Kicks delivery can continue to positively impact the lives of young people in our county."
Further information about Oxford United in the Community's Premier League Kicks programme is available by clicking here.
Newsletter
Sign up to the OUitC newsletter today to receive the latest news, events, information and offers directly to your inbox.