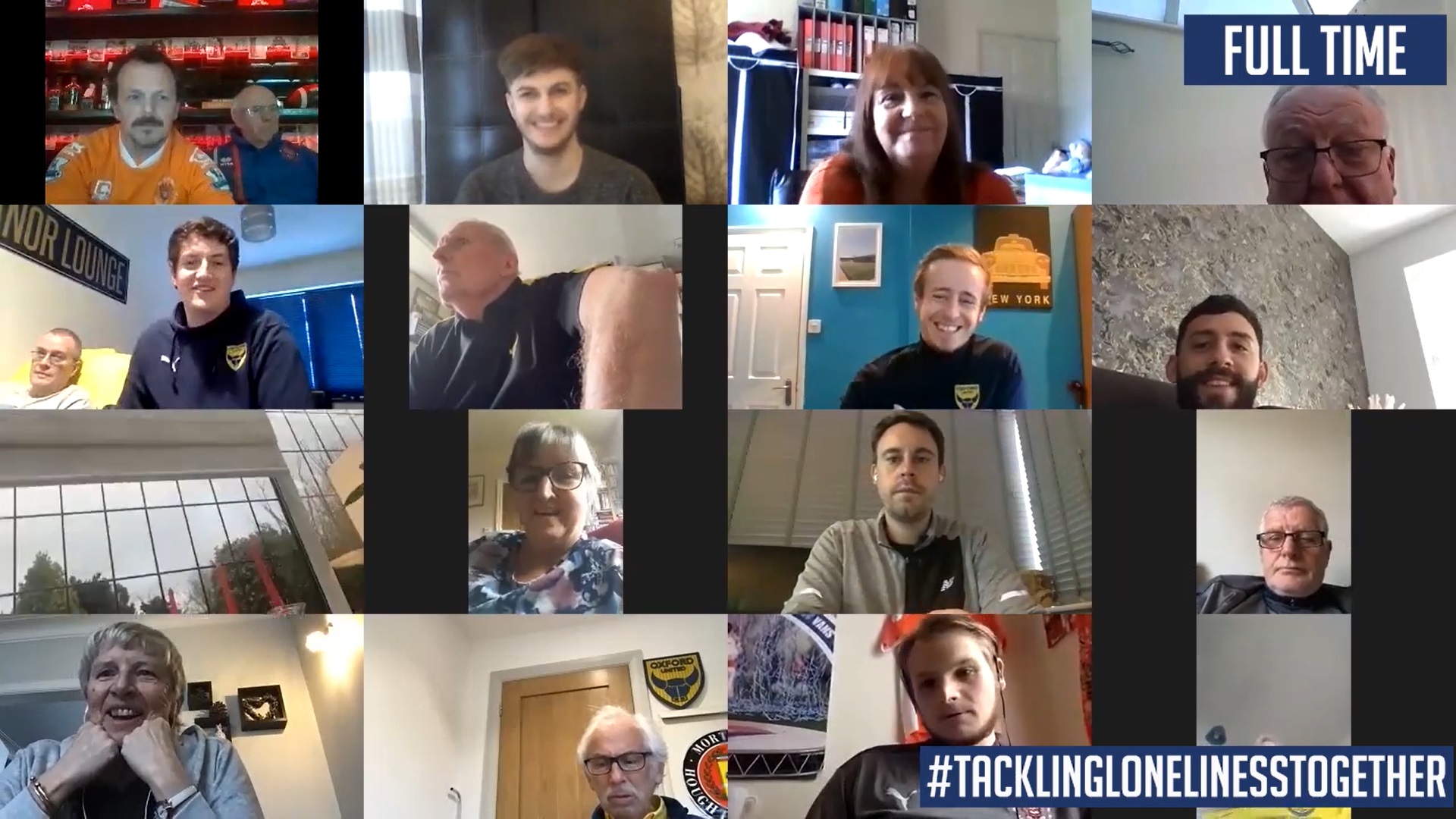 Oxford United supporters have revealed how new friendships have been established with fans of rival teams thanks to a season-long initiative led by the club's charity.
Oxford United in the Community regularly hosted matchday 'watch-a-longs' via Zoom for supporters to come together virtually. It was launched as part of its partnership with the EFL Trust to help reduce loneliness among people aged over 65. The virtual watch-a-longs were created to bring people together on a matchday for those most at risk of isolation during lockdowns.
By working with other club community organisations, U's fans were able to watch matches in the company of their friends plus opposition supporters and former players.
Lifetime United fan Carol Mankelow was among one of the regular watch-a-long members. Carol described the service as essential and said watching games digitally in the company of others helped fill the void of the matchday experience.
"It's not the same watching a game by yourself," said Carol. "I dearly miss the atmosphere a matchday generates and look forward to returning to the Kassam and visiting away grounds very soon.
"Oxford United in the Community's watch-a-longs have been brilliant. Everyone watching the games loves football, just because we support different clubs does not mean we should not support each other through the pandemic.
"It's been lovely getting to know some new faces from teams in League One. We had a great time with Doncaster and Plymouth fans especially, we're hopeful of all meeting up at some point when restrictions allow us to do so."
Special watch-a-long guests during the season included Oxford United in the Community patrons and club legends James Constable and Les Robinson.
Players past and present of opposing teams including Doncaster Rovers midfielder John Bostock and former Scottish international and Blackpool player Tony Green logged on too.
Tony Scott, who tuned into Oxford United in the Community's Doncaster watch-a-long, added: "The Doncaster game was particularly enjoyable. There was good banter between both sets of supporters and everyone had a great time.
"Most importantly, the watch-a-longs made everyone smile. Few positives have come from the pandemic, but we've definitely met new groups of people who we hope to meet soon when we're allowed to attend away games."
Young players aged eight to 18 on Oxford United in the Community's Premier League Kicks programme also joined in the fun for U's recent 4-1 win at home to Shrewsbury.
It offered members of the EFL Trust's Tackling Loneliness Together Over 65s group a chance to listen to fresh opinions from the club's younger supporters.
Chris Lowes, Head of Oxford United in the Community, said: "Our matchday watch-a-longs have helped make a real difference to the lives of some of United's most isolated supporters and reduced loneliness across the county.
"Reducing loneliness has been one of our key objectives during the pandemic and we have delivered a series of initiatives to deliver positive impact in this area."
Alex Blane, Development Centre Manager at Oxford United in the Community, said: "We're extremely grateful to club charities that took part and helped us deliver our successful watch-a-long programme.
"Not being able to attend fixtures and missing out on the social element a matchday creates has been tough for United's older fanbase, particularly those that live alone. We're pleased to have sparked new friendships in time for the 2021-22 season."
Oxford United in the Community helps inspire people to live happier and healthier lives in better connected communities using the power of football. Last year it engaged with over 2,500 people in Oxfordshire.
For further information, you can visit the charity's new website: Oxford United in the Community | Charity, Programmes, Courses (ouitc.org)
Newsletter
Sign up to the OUitC newsletter today to receive the latest news, events, information and offers directly to your inbox.