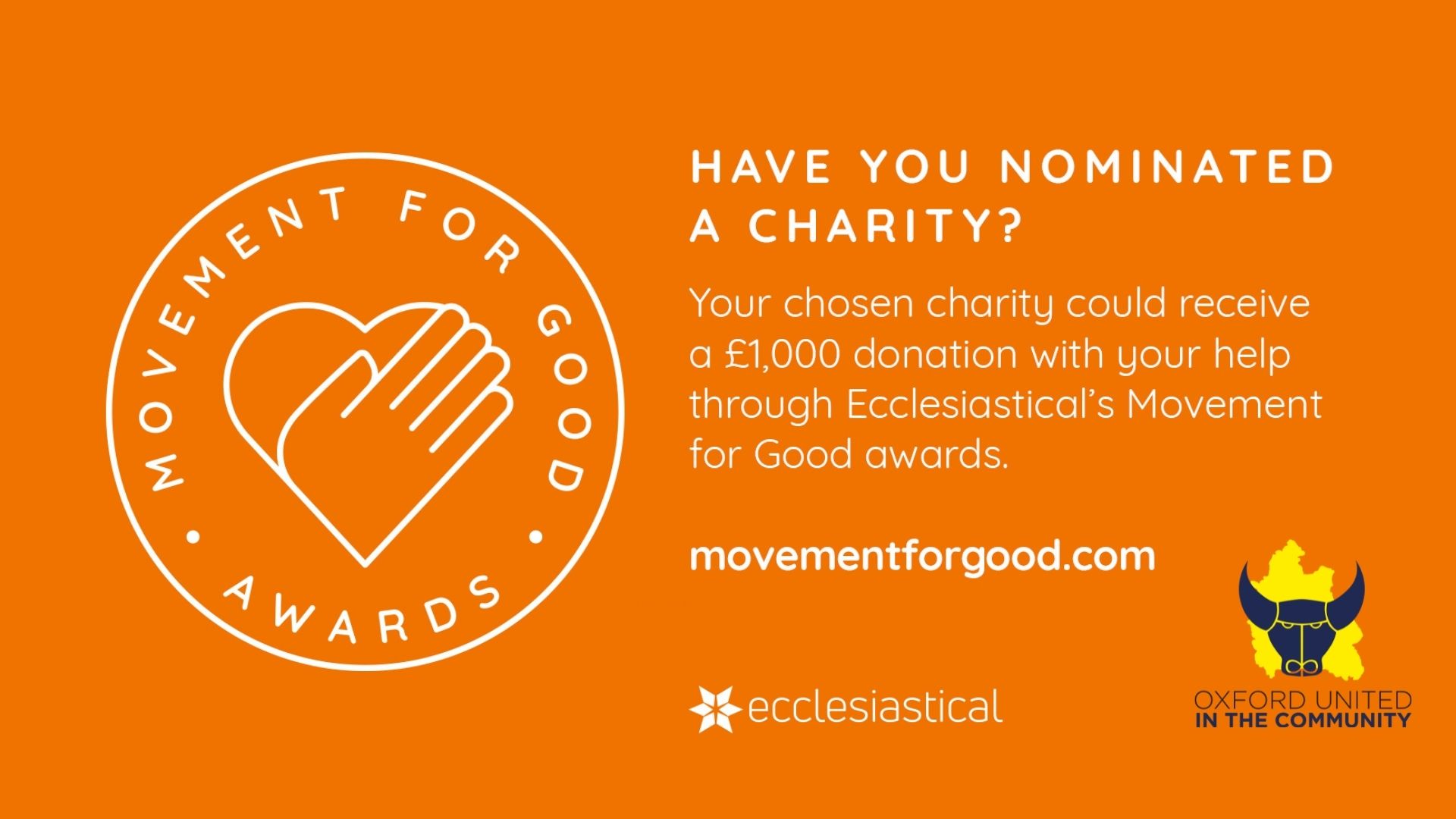 Oxford United fans can support the club's charity by nominating it to receive a £1,000 donation this summer via Ecclesiastical's 2021 Movement for Good awards.
Celebrating its third year of giving, Movement for Good will provide a cash boost to 1,500 charities based in the UK and Ireland by donating £1,000 to each winning nomination during the first phase of its summer campaign.
For charities to be in with a chance of winning, they must be nominated by their supporters through an online entry form which closes at midnight on Sunday, June 13.
Everyone is eligible to nominate a charity of their choice to win one of the awards. The more nominations a charity receives, the greater its chances of winning.
Should Oxford United in the Community be successful, funds would be used to support its vision to provide everyone in Oxfordshire with a positive connection via the football club and to inspire happier, healthier and better-connected communities.
Chris Lowes, Head of Oxford United in the Community, said: "The support we receive from Oxford United fans each year is always fantastic. Fans' donations help us engage with people of all ages and backgrounds each year and inspire positive change in our county through the power of football.
"We are continually exploring ways to bring money into the charity so we can fulfil our vision to work with more people in more towns across Oxfordshire. I would like to thank everyone in advance who chooses to nominate Oxford United in the Community and wish every charity taking part the best of luck.
"Ecclesiastical has charity at the heart of its work and we should applaud them for contributing to thousands of good causes in the UK and abroad for many years."
To nominate Oxford United in the Community to receive one of Movement for Good's' £1,000 donations, click here.
Founded in 1887, Ecclesiastical provides insurance, risk management and knowledge to its clients and partners in the UK, Ireland and Canada.
Oxford United in the Community helps inspire people to live happier and healthier lives in better connected communities using the power of football. Last year it engaged with over 2,500 people in Oxfordshire.
For further information, you can visit the charity's new website: Oxford United in the Community | Charity, Programmes, Courses (ouitc.org)
Newsletter
Sign up to the OUitC newsletter today to receive the latest news, events, information and offers directly to your inbox.