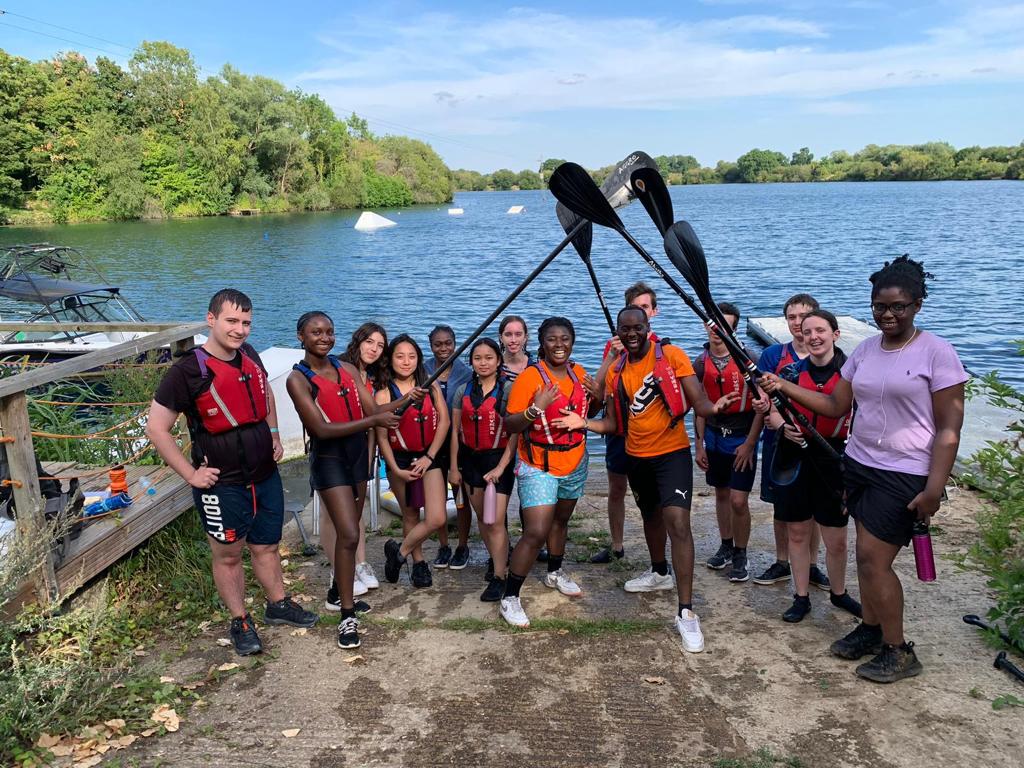 Young people who enrolled onto Oxford United in the Community's National Citizen Service (NCS) summer programmes have raised over £3,700 for six regional and national charities.
Asylum Welcome, Age UK Oxfordshire, Samaritans, Children's Cancer and Leukaemia Group, Homeless Oxfordshire and Restore each received a portion of the £3,715 participants raised from their respective social action projects.
The projects were planned and delivered in the second week of Oxford United in the Community's two-week courses, which were hosted in partnership with the EFL Trust.
Programmes are Government funded and aim to promote essential life skills in people aged 16 and 17 by developing teamwork, organisation and project planning skills.
Scores of participants were split into six teams in two waves this summer and tasked with delivering a project which would positively impact the lives of people and groups living in Oxfordshire.
Aled Newton, NCS Programme Manager at Oxford United in the Community, said: "All participants should be very proud of their efforts this summer.
"Together, they have raised an extraordinary amount of money which will directly support people in need living locally and help tackle live issues including homelessness, loneliness, our physical and mental wellbeing and more.
"It's so easy for young people to stay at home and enjoy the six-week break inside their comfort zone. Instead, we hosted a record number of participants on our residential courses and supported them in learning new skills, making new connections and raising a record amount of money for a number of fantastic causes.
"It proves to me Oxford and the surrounding areas have a young generation we can be very proud of."
'Team Nimmy' were able to raise £1,160 for Children's Cancer and Leukaemia Group through their project.
The charity is a leading cancer charity which works to improve the survival rates and standards of care for children being treated for Cancer and Leukaemia. It was chosen as one of the team's members Aliya Dawson's younger sister Nimmy had suffered from Langerhans Cell Histiocytosis (LCH).
The disorder is diagnosed in just 50 people each year and can damage tissues or cause lesions to form in one or more parts of the body. Team members made bracelets and headbands and took to the streets of Oxford to drum up support and much-needed funds to help Aliya's family hit their £20,000 fundraising goal.
Aliya said: "Everyone was really keen to raise funds for Children's Cancer and Leukaemia Group after hearing my sister's story.
"We setup several social media accounts to promote our campaign and designed bee-themed outfits and posters to make us stand out to members of the public. We were really surprised by how effective the campaign was and how generous people were with their donations.
"LCH is a cruel condition which has denied Nimmy large parts of her childhood, so Nimmy and I are very grateful to my teammates for their hard work in raising such an amazing sum of money.
"Oxford United in the Community's NCS programme was amazing and like nothing I had done previously. I met so many lovely new people and made friends to last a lifetime who all contributed towards our successful campaign."
Oxford United in the Community is the football club's official charity and helps inspire people to live happier and healthier lives in better-connected communities through the power of football.
Newsletter
Sign up to the OUitC newsletter today to receive the latest news, events, information and offers directly to your inbox.