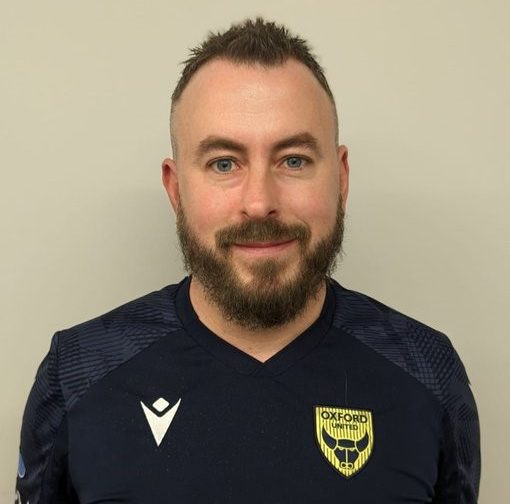 Oxford United in the Community has recruited a Lead Community Coach to support its work to inspire happier, healthier and better-connected lifestyles through the power of football.
Football enthusiast Rob Porter has joined the charity full-time having coached on a casual basis for six years where he has supported the team's work to positively engage all people in Oxfordshire aged 'two to 92' with the United badge.
Born and raised in Oxford, Rob will work to boost the provision of football sessions locally by championing the charity's programmes in school and community environments.
This includes leading Oxford United in the Community's holiday camps for youngsters aged 4-13, assisting with coach recruitment and educating school pupils via Premier League Primary Stars.
Rob hopes his passion for football and sport generally can be translated into his sessions and inspire more participants to aspire to new achievements on and off the pitch.
"I've always had a huge passion for football," said Rob. "I played through my youth and started coaching when my son first played competitively for our local team.
"I've built strong relationships with the team through my part-time work at the charity and the opportunity to become Lead Community Coach really excites me.
"Through our work in schools and community settings, we hope to positively inspire more people by engaging with our programmes and making new connections. Football holds a tremendous power to help people become the best version of themselves.
"It's a power that should never be underestimated and I'm pleased to be in a position to prompt lasting change across Oxfordshire."
The latest Sport England data revealed less than half (47.2%) of children are meeting the Chief Medical Officer's guidelines of taking part in sport or physical activity for 60 minutes or more each day.
In addition, almost a third (30.1%) do less than 30 minutes of physical activity each day.
Rob hopes Oxford United in the Community's range of inclusive programmes can help support the reversal of that trend locally, starting with next month's half-term holiday camps.
"Ability should never be a barrier to participation," said Rob. "Our programmes are built on being both fun and educational so participants of all experiences can thrive in an open environment.
"As coaches, we take great pleasure in seeing participants develop not only their technical skills, but also qualities which can be applied in the real world such as communication, teamwork and problem solving.
"That's our ultimate goal – to help participants unlock new skills which can benefit not only their game but also prospects and opportunities in life."
Oxford United in the Community is the football club's official charity and works to inspire people to live happier and healthier lives in better connected communities using the power of football.
Further information about the charity is available via its website – www.ouitc.org.
Newsletter
Sign up to the OUitC newsletter today to receive the latest news, events, information and offers directly to your inbox.