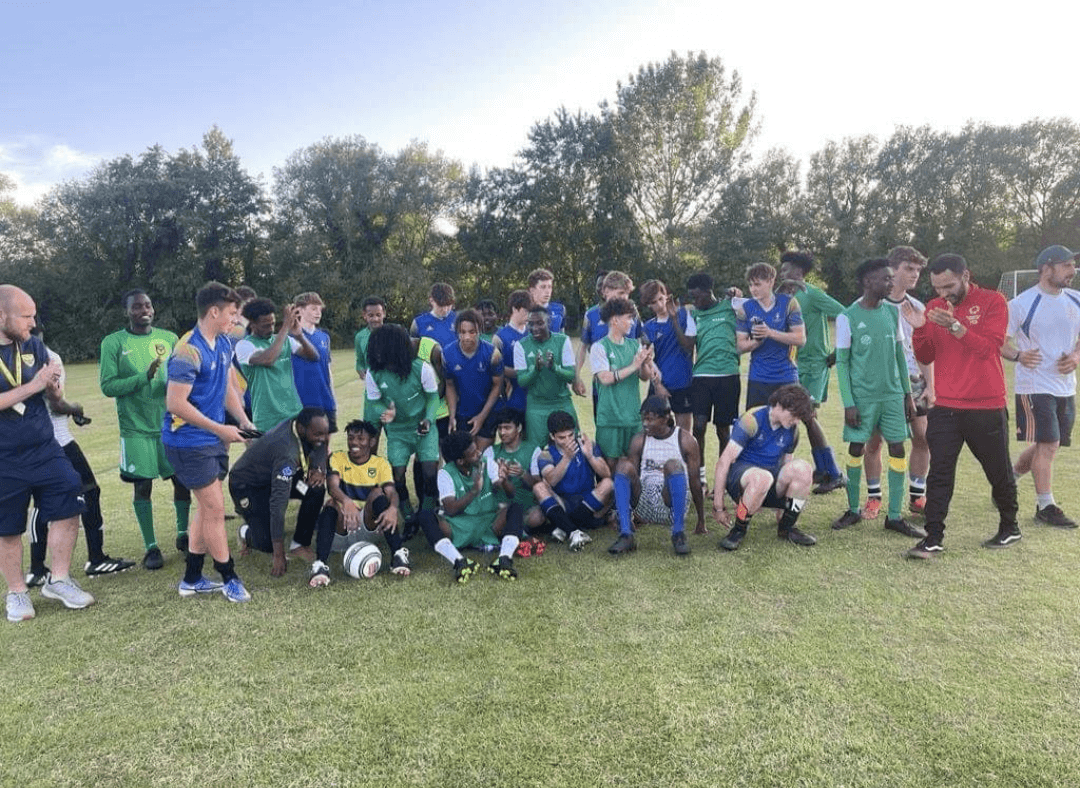 A group of young refugees living in Oxford celebrated playing their first competitive football match since arriving in the UK following months of training and friendship building.
Refugee Football Group was invited by St Edward's School to play a summer-term friendly after its players developed their football skills and knowledge with the support of Oxford United in the Community, Refugee Resource and Asylum Welcome.
The three charities partnered to deliver weekly specialist football sessions at St Gregory the Great Catholic School in Cowley to help participants establish valuable life skills including teamwork and communication.
Refugee Football Group celebrated a 6-1 victory on the day and were treated to food and drinks after full-time where players from both teams shared their experiences and love for sport.
Mark Thomas, Social Inclusion Lead at Oxford United in the Community, was part of the squad's coaching team and said every player has fulfilled new goals and ambitions since joining.
"They've developed so much as people, and I'm really proud of the character and togetherness of this squad," said Mark. "All of our players could not speak English when they arrived in the UK, and many had traumatic journeys which will remain with them.
"Football has acted as a release where they have been able to forget about the past and concentrate on working together as a team in the company of new, likeminded, friends.
"Providing every person living in Oxfordshire with a positive connection to Oxford United FC is our charity's core objective, and we hope players feel inspired to have positive aspirations for their futures through the power of football.
"We're grateful for the support we have received from Refugee Resource and Asylum Welcome, plus St Edward's School who were fantastic hosts and really inspired our players to take their ambitions on the pitch to the next level."
The squad plans to participate in more competitive fixtures in the new academic year, but significant funds are required to hire a training facility and pay for basic kit including shirts, boots and shin pads.
Lucy Nichol, Services Development and Delivery Manager at Refugee Resource, added: "It's been an incredible journey for the entire team.
"From not knowing one another to learning the English language, developing their football skills and then playing as a team – we're all extremely proud of their achievements.
"It was wonderful to see such a diverse group of refugees who had never played together previously connect so well on the football pitch. We're hopeful individuals and organisations can dig deep and support this truly worthwhile cause which is providing Oxford-based refugees with some deserved respite from everyday life."
Aiham Al Aswade, Programme Assistant and volunteer at Asylum Welcome's Youth Service, arrived in Oxford aged 17 as an asylum seeker.
Aiham was a semi-professional footballer in Yemen before travelling to the UK and is passionate about creating more sporting opportunities for young asylum seekers in Oxfordshire.
He said: "The joy of seeing players express themselves on the pitch playing their favourite sport is beyond words.
"Understanding the hardship and struggles they face every day and challenging journeys experienced to be here makes it even more meaningful. We are very appreciative of the support shown in Oxford, particularly St Edward's School and Oxford United in the Community.
"We look forward to collaborating again in the future in our shared efforts to make Oxfordshire a better and warmer place for everyone."
Asylum Welcome works with refugees, asylum seekers and immigration detainees in Oxfordshire to help them feel welcome, safe and confident. The charity provides a holistic range of integrated advice and support services to address complex issues they might face.
Refugee Resource provides psychological, social and practical support for refugees, asylum seekers and vulnerable migrants to help them heal from trauma and build new lives as part of Oxfordshire's diverse community.
Oxford United in the Community is the football club's official charity and helps inspire people to live happier and healthier lives in better-connected communities through the power of football.
Individuals and organisations interested in sponsoring Refugee Football Group can donate to the squad's cause by visiting Refugee Resource – a Community crowdfunding project in Oxford by Hannah Bardsley (crowdfunder.co.uk).
Newsletter
Sign up to the OUitC newsletter today to receive the latest news, events, information and offers directly to your inbox.