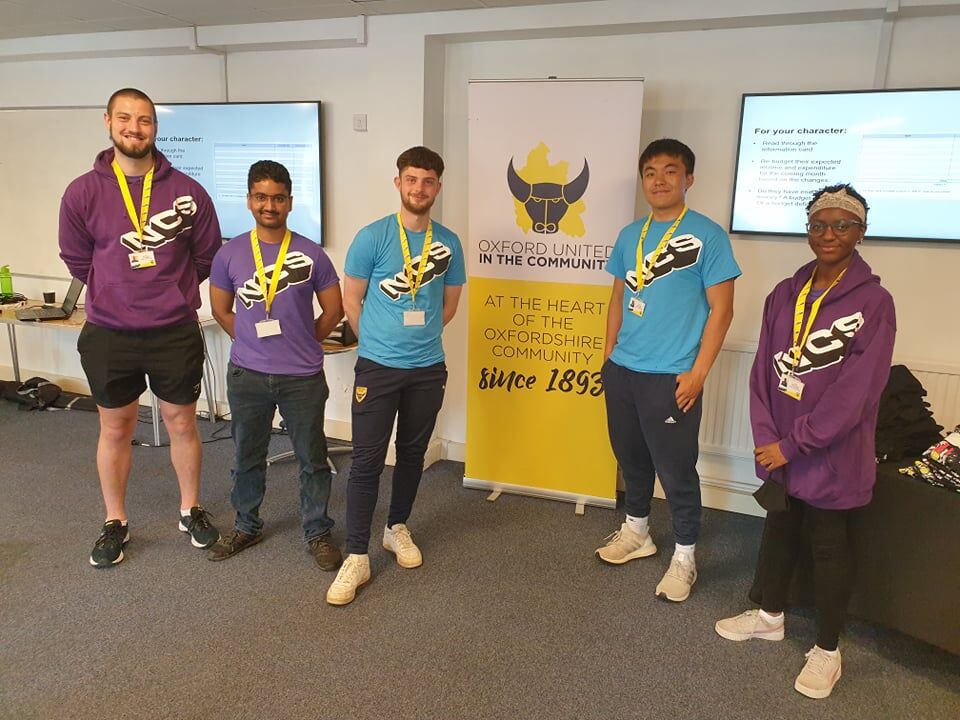 Teenagers who enrolled onto Oxford United in the Community's National Citizen Service Programmes this summer have raised more than £1,400 for five local charities.
Aspire Oxford, Botanical Gardens, Friends of the Earth Oxford, Edge Housing and Oxfordshire Community Churches each received a portion of the £1,444 participants raised via their respective social action projects.
The projects were planned and delivered in the second week of the two-week course which was hosted in partnership with the EFL Trust and supported by the Government to promote essential life skills in young people such as teamwork, organisation and project planning.
Participants were split into four separate teams and tasked with planning and delivering a project which would positively impact people living in Oxfordshire.
Book and clothes donations, a sponsored 10-mile walk, a games night, physical challenges and litter picking helped raise funds and increase awareness of issues including homelessness and environmental factors.
Aled Newton, NCS Programme Manager at Oxford United in the Community, said: "We are so pleased with participants' fundraising efforts and commitment to fulfilling their respective social action projects.
"Homelessness and environmental change are two important issues in Oxford and each of our four teams made their voices heard to raise awareness and vital funds for five excellent charities.
"It would have been so easy for everyone to stay at home and watch television or play video games, but instead Oxford and the surrounding areas proved we have a young generation to be proud of."
Team 'Homes For All' completed the course having raised £560 for Aspire Oxford.
The funds will be used to support the charity's year-long 'No Going Back' campaign, which endeavours to prevent a return to pre COVID-19 levels of homelessness, disadvantage and inequality in Oxfordshire.
Shelby Stapleton, Communications and Fundraising Officer at Aspire Oxford, said: "We had such a fantastic experience with the 'Homes For All' team. Their enthusiasm for fundraising on behalf of Aspire Oxford was brilliant.
"We provided buckets, t-shirts and literature so they could raise awareness around Oxford via their social action project. We were incredibly impressed with the team's organisational skills and drive and so grateful for their commitment to raising a fantastic amount of money."
Oxford United in the Community will deliver its next NCS Programme in the autumn as part of the charity's new 'Oxfordshire – A Community United' strategy. Teenagers aged 16 or 17 wanting to establish a clear idea of what they want from their future are eligible to enrol.
Aled added: "NCS programmes are an excellent launchpad to help young people establish valuable skills which can be applied to the real world.
"Our team ensure the sessions are hosted in a fun and relaxing environment where everyone can reach their full potential by building friendships and positively impacting their local communities.
"It's also a great achievement to list on someone's CV or UCAS statement. We look forward to delivering our next programme in the autumn."
Chris Lowes, Head of Oxford United in the Community, said: "Using the power of the Oxford United badge, we are in a privileged position to inspire happier, healthier and better-connected communities.
"We do this by working closely with our growing list countywide delivery partners who can help us provide every person living in Oxfordshire with a positive connection with the football club.
"It's great to see so many participants graduate from our NCS programme during the summer holidays to help make a real difference to their local communities."
Oxford United in the Community is the football club's official charity and helps inspire people to live happier and healthier lives in better connected communities via the power of football.
Further information about the upcoming NCS Programme will be available via the charity's new website soon.
Newsletter
Sign up to the OUitC newsletter today to receive the latest news, events, information and offers directly to your inbox.