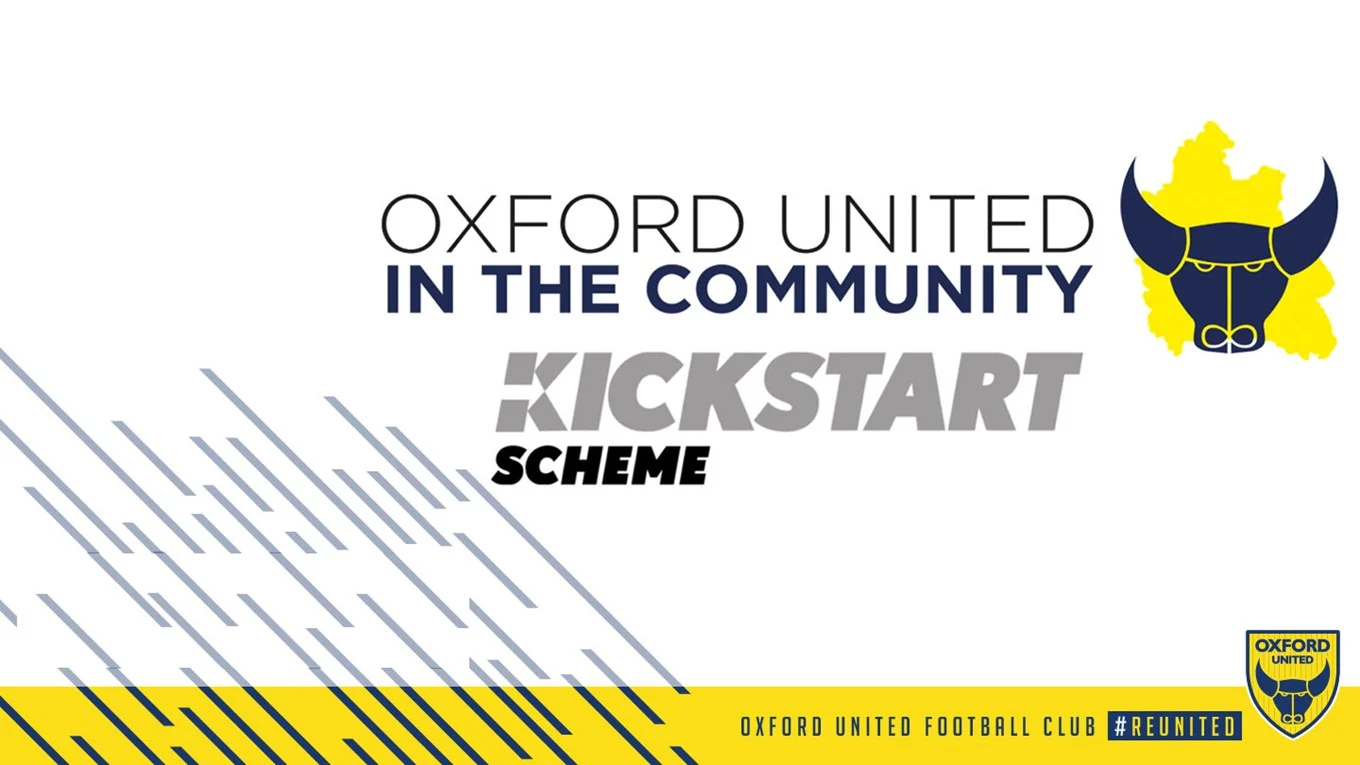 Community team help launch new EFl initiative
Oxford United in the Community is offering young people the chance to work within the charity as part of the government's Kickstart scheme.
It is offering five work placement job roles to people aged 16 to 24 who are claiming Universal Credit. The scheme is designed to help build skills in the workplace and gain experience to improve chances of finding long-term work.
The six-month placements will cover roles including business admin, sports coaching, marketing, youth work, photography, communications, and fundraising.
Kickstart gives young people the opportunity to get their foot on the ladder and a foothold in the world of work. Nationally, the scheme has already created more than 38,000 vacancies across the UK and received over 4,000 applications from employers. Tens of thousands more jobs are expected in the coming months. More than 65 EFL clubs and charities have signed up to the scheme.
Chris Lowes, Head of Oxford United in the Community, said: "The Kickstart scheme is an excellent initiative and we're pleased to be introducing five opportunities in Oxfordshire. It is a structured way for young people to develop crucial work experience at such a challenging time.
"As a charity we are committed to supporting people in our community and the Kickstart scheme has provided us with an additional way to make a difference. We are offering five placements within the charity and are committed to making sure they are highly engaging opportunities for people to kick-start their careers."
The EFL Trust, the charitable arm of the EFL is acting as a Gateway provider, bringing together a network of football clubs, charities, and other partners, to provide a wealth of opportunities across the country for the out-of-work youngsters.
Minister for Employment Mims Davies MP said: "It's great to see the EFL Trust sign up to the Kickstart scheme, to nurture and support so many of our next generation of workers. This fantastic commitment will see nearly 500 young people take up a diverse range of roles, from working in finance and HR, to becoming a sports coach or marketing for a major club.
"The Kickstart Scheme gives thousands of young jobseekers a chance to get on the jobs ladder – they'll gain vital work experience, build a network of contacts and learn the value of earning a wage for themselves – as part of our £30bn Plan for Jobs helping people of all ages into work."
Mike Evans, CEO, EFL Trust said: "This impact of COVID-19 on our young people is clearly very significant and we are delighted to be able to offer opportunities to young people in our communities through the Kickstart programme. A key part of our strategy at the EFL Trust is to raise aspirations and realise the potential within our communities and a scheme like Kickstart enables us to have a significant impact on the young people who need out support most right now."
The positions will be available through the Job Centre, then applicants will contact Oxford United in The Community to formally apply.
Newsletter
Sign up to the OUitC newsletter today to receive the latest news, events, information and offers directly to your inbox.