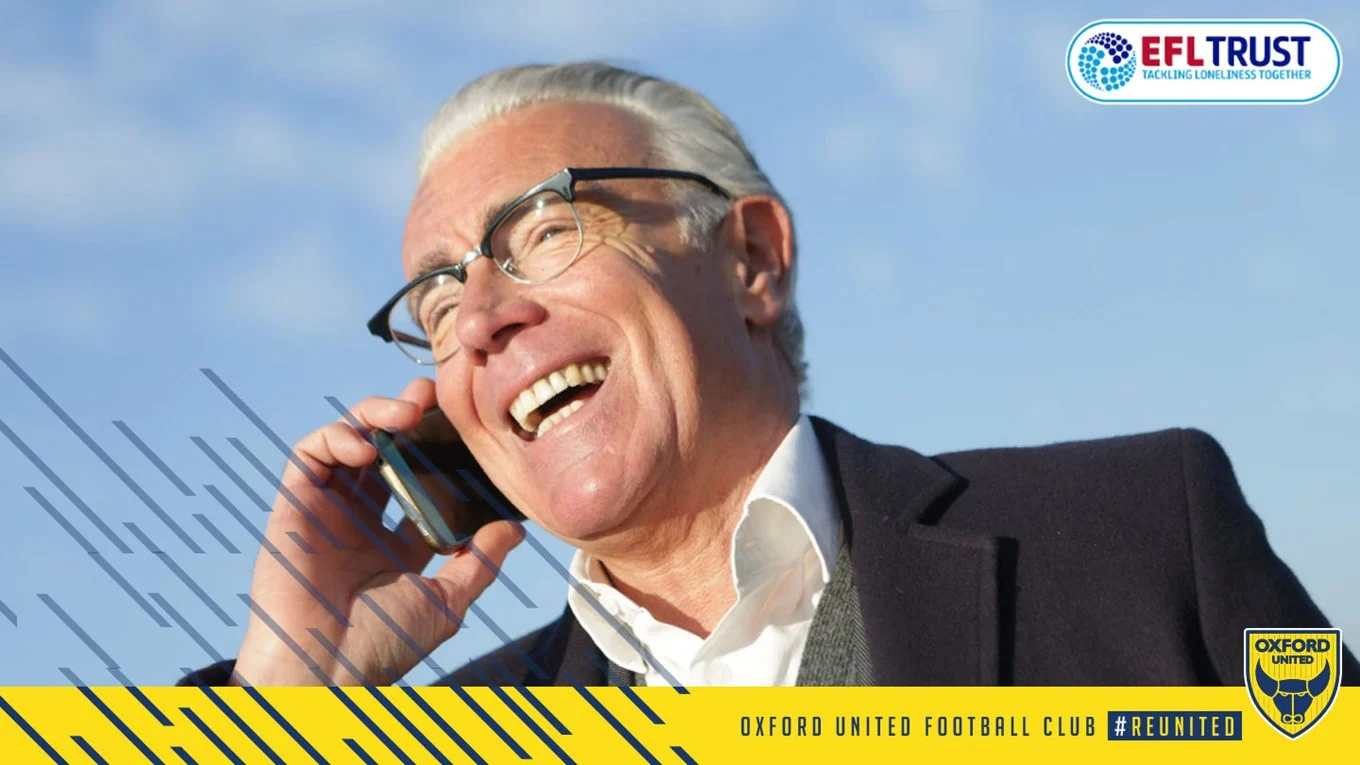 Community team re-launch free telephone support service to help tackle loneliness among older people
Oxford United in the Community has relaunched its popular free telephone service to help tackle loneliness among older people in Oxfordshire during the current COVID-19 lockdown.
The charity is again appealing to fans to help it tackle loneliness by letting the team know of any relatives, friends or neighbours living in Oxfordshire aged 70 or over who would benefit from a friendly telephone support call.
The telephone support programme first took place last year and was a great success. With on-going social restrictions forecast between now and spring, the charity decided to re-launch the service to support elderly people across the county. It complements the charity's weekly virtual coffee mornings held at 11am on Wednesdays via Zoom.
Alex Blane, Oxford United in the Community Lead Coach and Project Lead, said: "Our telephone service was a huge success last year and had a positive impact in helping reduce loneliness within the older generation.
"Because of its popularity, we have decided to extend the service and continue to engage with elderly residents across Oxfordshire by calling them up for a friendly chat.
"Importantly, not everyone we call is an Oxford United fan. This is a service open to anyone that will benefit from a supportive telephone call while we are all told to stay at home."
Chris Lowes, Head of Oxford United in the Community, added: "Delivering continued positive impact across Oxfordshire is a key aim for the charity while everyone's movement is restricted due to COVID-19.
"We understand many elderly people might be feeling isolated during this latest lockdown and therefore extended both our phone and coffee morning services to provide further support.
"If you know someone who may benefit from a supportive call please do get in touch. Our team are here to support people and provide company or help to access wider support."
As part of the EFL Trust's' Tackling Loneliness Together campaign Oxford United in the Community is also delivering the 'Manor Club Extra'. It includes regular videos with United legends and the distribution of brochures in partnership with Age UK Oxfordshire and Active Oxfordshire
To nominated someone for a call and contact via email or post, please complete this form with their contact details.
People can also register their interest to attend Oxford United in the Community's weekly Virtual Coffee Mornings by emailing [email protected]
Newsletter
Sign up to the OUitC newsletter today to receive the latest news, events, information and offers directly to your inbox.