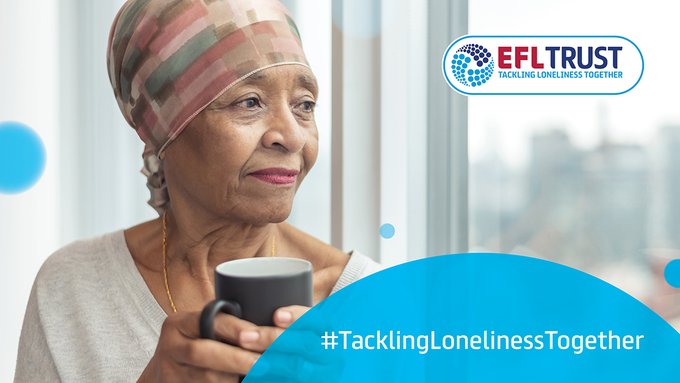 Club's charity issue appeal to fans
Oxford United in the Community today issued an appeal to fans to help the charity tackle loneliness in Oxfordshire during the current lockdown.
The Charity has been working on helping reduce loneliness among the older generation via the newly launched 'Manor Club Extra' with online videos and both printed and e-brochures, as part of the national EFL Trust Tackling Loneliness Together campaign.
However the community team is aware that with darker nights, worse weather and Christmas on the horizon this lockdown will be even harder for everybody and they would like to do more – but they need you to help.
OUitC, the official charity of Oxford United football club is going to provide friendly telephone support to older people in Oxfordshire who live on their own and would like someone to call to have a chat.
If you have an older relative, friend or neighbour living in Oxfordshire and is over the age of 70 years old, who would perhaps benefit from a telephone call from one of the community team please let us know.
Alex Blane, Lead Coach and Project Lead, said: "We have already made such great steps in the last few months with this project and now I am urging the supporters to propel us to the next level by helping us reach as many isolated or lonely residents across Oxfordshire during these winter months."
Whilst during the first lockdown United's older fans were contacted, this time the Community team is looking to speak to any older members of the community over 70 – they do not have to be U's supporters.
OUitC are also planning a series of virtual Coffee mornings as part of the programme. To register your interest please email [email protected]
Chris Lowes, Head of Oxford United in the Community, said: "Lockdown is exacerbating the challenges of isolation and so we would like to expand our reach further and help connect people.
"We are keen to expand how we can deliver positive impact as part of our commitment to the EFL Trust campaign to tackle isolation & loneliness among the over 70s.
"If you know someone who may benefit from a call from the charity please do get in touch. Our team are here to support people and provide company or help to access wider support."
To nominate someone for a call and contact via email or post, please complete this form with their contact details.
To see the Manor club extra videos already released please head over to the OUitC YouTube channel:
Newsletter
Sign up to the OUitC newsletter today to receive the latest news, events, information and offers directly to your inbox.