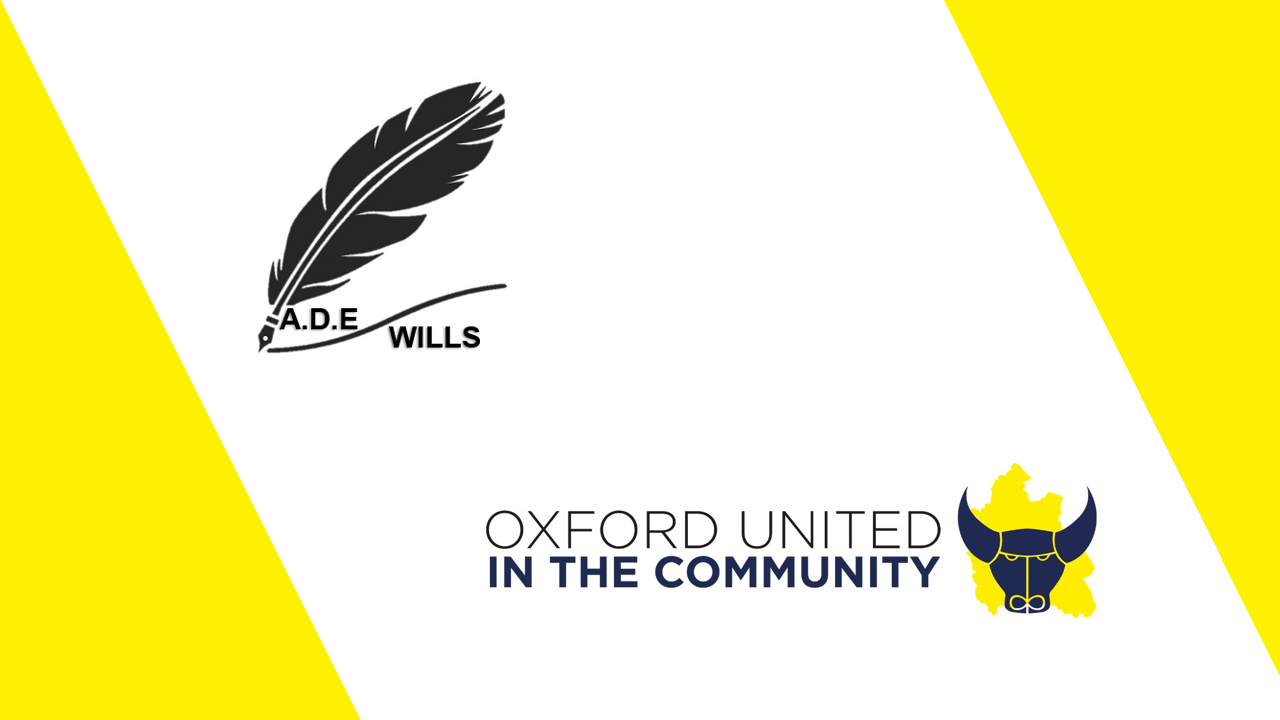 Fans can now leave a legacy to Oxford United in the Community and help provide long lasting positive social impact, thanks to a new partnership.
Oxford United's official charity has partnered with A.D.E Wills to offer U's fans the opportunity to support its positive impact work in the community via legacy support. Oxford United in the Community helps inspire happier, healthier and better-connected communities via the power of football.
Leaving a legacy will help the charity continue to offer programmes and social impact projects that inspire people of all ages to improve their health and wellbeing.
Furthermore, charitable gifts in Wills are exempt from inheritance tax – meaning the full value of a donation will be available to Oxford United in the Community to further its vision of positively engaging with people aged '2 to 92' across the county. Those who support Oxford United in the Community via the partnership will receive a free Will as part of the partnership.
Chris Lowes, Head of Oxford United in the Community, said: "Many people support the on-going work of a charity by leaving a legacy in their Will. We are pleased to have partnered with A.D.E Wills to now offer this as an option to United fans who may like to support our work in their community.
"A.D.E Wills is an innovative firm that has bettering communities in Oxfordshire at the heart of its core values. Therefore, they were the right team for us to partner with.
"We hope the partnership will inspire more people to make Oxford United in the Community their charity of choice when writing a Will and consequently allow everyone the opportunity to engage positively with the United badge for many years to come."
Edward Richings, Owner of Oxford-based A.D.E Wills, said he is proud to help protect the futures of families while benefiting the communities of Oxfordshire at the same time.
He added: "It has always been a great desire of mine to be able to help the community. I am personally very excited to work alongside such a great charity as Oxford United in the Community.
"They are incredibly benevolent and are determined to help communities across Oxfordshire, regardless of personal characteristics. I am excited about the opportunities and impact we can have together."
Last year Oxford United in the Community engaged with over 2,500 people in Oxfordshire.
If you would like to support the work of Oxford United in the Community and receive free Wills services in return, simply quote 'OUITC' when talking to A.D.E Wills and tell the team the legacy you wish to leave the charity.
To sign up or learn more about A.D.E Wills and its services, visit here. Alternatively, contact Edward via email using [email protected].
Newsletter
Sign up to the OUitC newsletter today to receive the latest news, events, information and offers directly to your inbox.