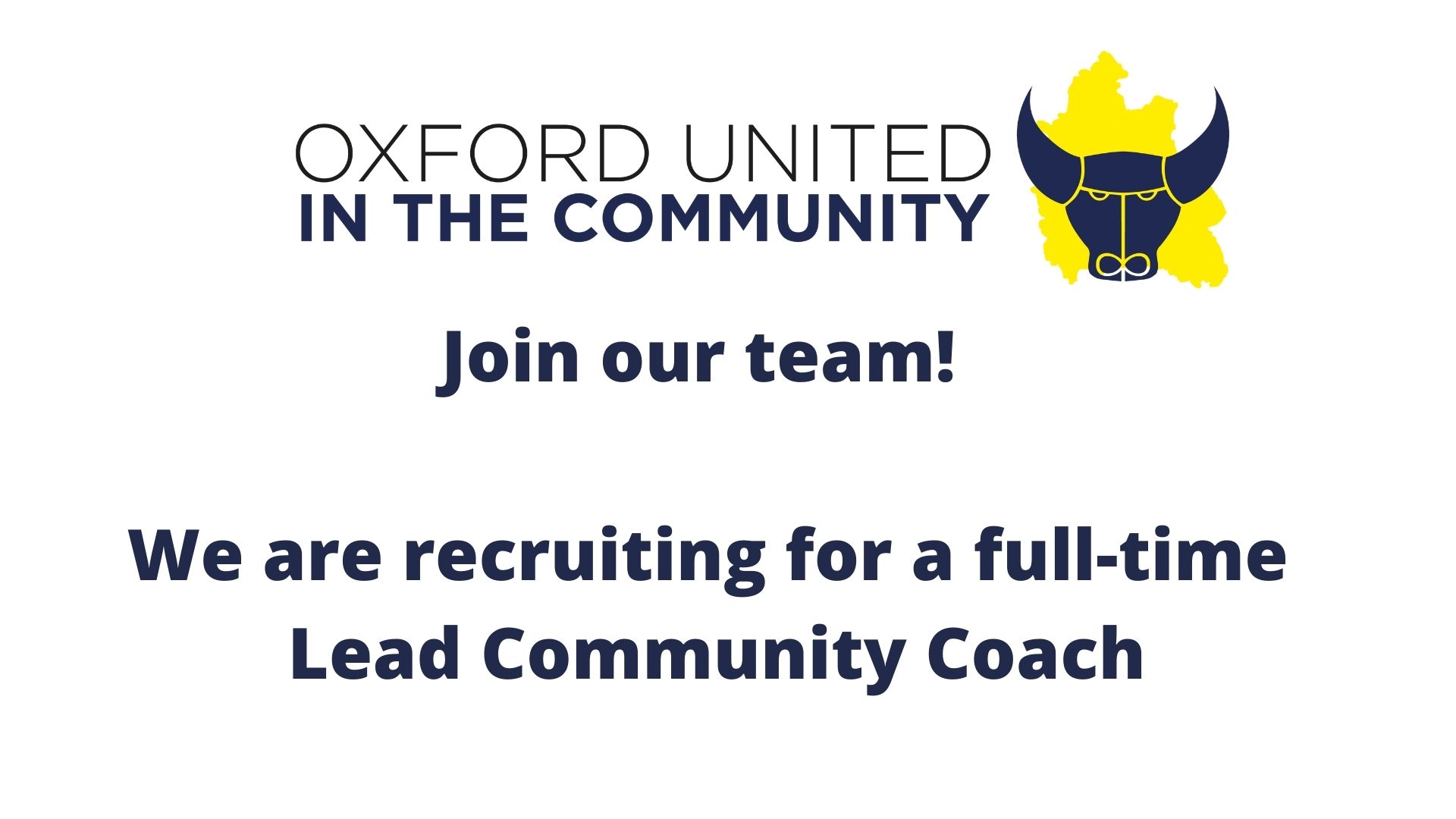 Oxford United in the Community is recruiting a Lead Community Coach to join its team and support the provision of football in Oxfordshire by delivering quality, inclusive, sessions.
Based at Oxford United's training ground on the Horspath Road, the Lead Community Coach will be responsible for the successful delivery of programmes and help the charity inspire participants to lead happier, healthier and better-connected lives.
The role involves a particular focus on our Premier League Primary Stars programme which is delivered in schools across Oxfordshire and supports pupils in all areas of their curriculum using the power of football.
The successful candidate would ideally have experience working with children, young people and adults and hold an FA Level 2 Coaching qualification or be working towards it. Due to the multi-site nature of the role, only applicants who can drive and have access to their own vehicle will be considered for the role.
Chris Lowes, Head of Oxford United in the Community, said: "Engaging people of all ages and helping them to realise their true potential through the power of football is a significant part of our work.
"We are looking for someone who shares our passion to improve the lives of individuals and the communities they live in by making our football-based programmes inclusive and accessible to everyone.
"Our team is passionate about harnessing the power of the Oxford United badge and improving people's lives through our community-based programmes and projects which tackle important issues and inspire participants to have positive aspirations for their future.
"This is a unique opportunity to directly impact the lives of people living in your locality. We look forward to hearing from candidates."
Oxford United in the Community is the official charity of Oxford United Football Club. Its coaches work with people of all ages, backgrounds and abilities in Oxfordshire to help people make new friends and connections, develop new skills and tackle important issues.
Our Lead Community Coach will be self-motivated and hold excellent communication, organisation and planning skills. Knowledge and understanding of the Premier League Primary Stars programme and previous experience of working in a primary school would be advantageous.
The role is 40 hours per week with the starting salary between £19,000 and £21,000, depending on experience.
To apply, please email [email protected] for the attention of Christopher Lowes with your CV and a covering letter detailing how your personality and capabilities will strengthen Oxford United in the Community and its programmes.
The closing date for applications is Friday, February 25, at midday. Interviews will be held via Zoom on the week beginning February 28.
For the full Lead Community Coach job description, click here.
Newsletter
Sign up to the OUitC newsletter today to receive the latest news, events, information and offers directly to your inbox.