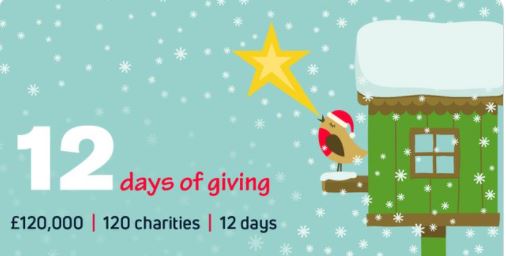 Oxford United fans are being encouraged to back the club's charity by nominating it for a festive donation of £1,000 via Ecclesiastical's 12 Days of Giving scheme.
Each year, financial services company Ecclesiastical pledges £120,000 of its profits to its festive giveaway scheme as part of the company's philosophy to donate funds to charity.
12 Days of Giving is open to any UK or Irish registered charity, non-for-profit organisations, and community interest companies. For charities to be in with a chance of receiving £1,000 they must be nominated by their supporters via an online form.
Ten winners will then be drawn at random each weekday from Monday, December 6, until Tuesday, December 21. Nominations will remain open until midnight the day before each draw. If awarded the cash pledge it would be used to enhance the charity's positive impact work in the county.
Chris Lowes, head of Oxford United in the Community, said: "Oxford United fans have always been great in supporting the football club's official charity and its work to benefit thousands of people of all ages across Oxfordshire each year.
"COVID-19 has impacted our fundraising levels and we are continually exploring ways to bring money into the charity so we can expand our positive impact in our community. I'd like to thank in advance everyone that chooses to nominate Oxford United in the Community for this excellent festive donation organised and funded by Ecclesiastical."
To nominate Oxford United in the Community for one of Ecclesiastical's 12 Days of Giving donations, visit: https://www.movementforgood.com/12days/.
Once on the page, supporters will be asked to type in the charity's name and charity type. Supporters should enter 'Oxford United in the Community' and select 'education and skills' from the dropdown menu provided.
OUitC is Oxford United's official charity and helps inspire people to achieve their potential and improve their health and wellbeing via the power of football. Last year it engaged with more than 2,500 people in Oxfordshire.
Newsletter
Sign up to the OUitC newsletter today to receive the latest news, events, information and offers directly to your inbox.