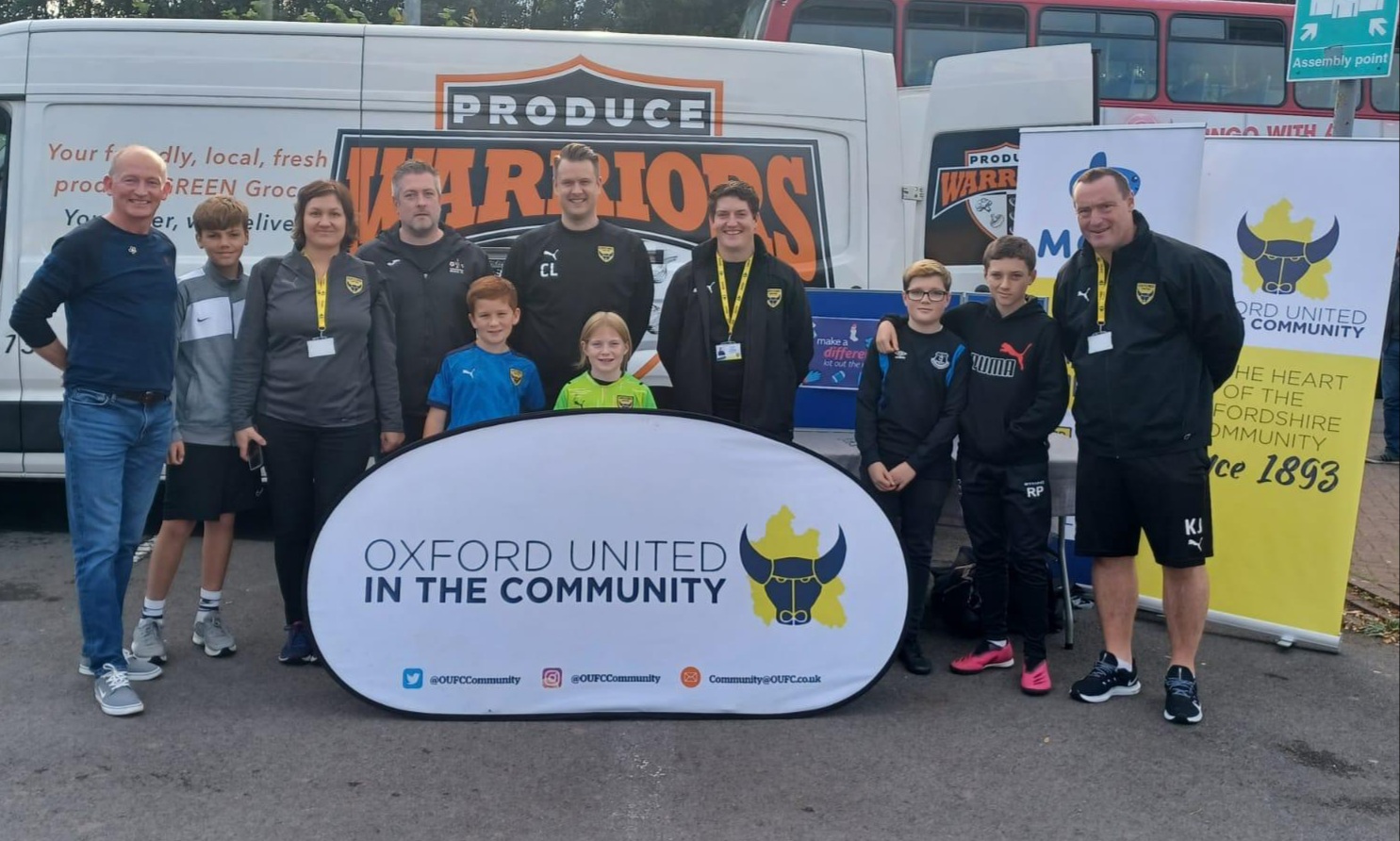 Dozens of bags packed with sports kit have been collected by Oxford United in the Community in partnership with Easington Sports FC and BBC Radio Oxford as part of its #KitOutTheNation campaign.
The football club's official charity has been accepting donations of brand new and second-hand kit including essential equipment and clothing to support the BBC's effort to make sport easier to access for all families living in Oxfordshire.
Footballs, goals, training kit, bibs, shin pads, frisbees and NFL shirts were among items donated to two collection points at Easington Sports FC in Banbury and outside the Kassam Stadium during Oxford United's recent home game.
The kit will now be distributed to schools and community sites across Oxfordshire to encourage more young people to lead a healthy and active lifestyle.
By making equipment widely available, the campaign aims to increase the provision of sports participation after data from Sport England revealed 100,000 fewer children met the recommend level of physical activity in 2020 compared to the previous year.
Chris Lowes, Head of Oxford United in the Community, thanked everyone who supported the cause, adding that all donations will help make a real difference to peoples' ability to participate in sport at grassroots level.
He said: "We're delighted with the response to the BBC's #KitOutTheNation campaign which we are proud to support in partnership with Easington Sports FC.
"It's quite easy to take essential sports equipment and clothing for granted. But for many people, a lack of access to such items is what makes sport hard to participate in due to the associated costs.
"As a charity committed to providing every person with a positive connection to Oxford United through the power of football and community-based programmes, it was only natural for us to support this great cause.
"With the help of Business2Schools, our team will now distribute all items which were donated across Oxfordshire to help young people and their families live happier, healthier and better-connected lives via physical activity."
Among the items collected were trainers and boots suitable to use on Astroturf playing surfaces.
The charity specifically called for boots to be donated so participants on its Refugee Football Project programme could begin to play competitively against teams across Oxfordshire following a number of supportive training sessions.
Banbury-based award-winning fruit and vegetable wholesaler Produce Warriors supported the collection of boots by providing a van that transported equipment donated in Oxford to Easington Sports FC.
Paddy Patterson, of Easington Sports FC, added: "We're very grateful to Mike Hirons and Produce Warriors for bringing all Oxford donations to Banbury and unloading them into our clubhouse for distribution.
"It was lots of work, but very rewarding at the same time. We're looking forward to distributing the kit and helping young people get active after a long period of isolation due to the COVID-19 pandemic.
"#KitOutTheNation has been a fantastic campaign which is going to make a real difference to the lives of young people nationally. It's been great working in partnership with BBC Radio Oxford and Oxford United in the Community to support the cause."
If you represent a school or community group that could benefit from receiving a selection of sports equipment and kit, please email [email protected] to get in touch with our team.
Oxford United in the Community helps inspire people to live happier and healthier lives in better connected communities using the power of football.
Newsletter
Sign up to the OUitC newsletter today to receive the latest news, events, information and offers directly to your inbox.