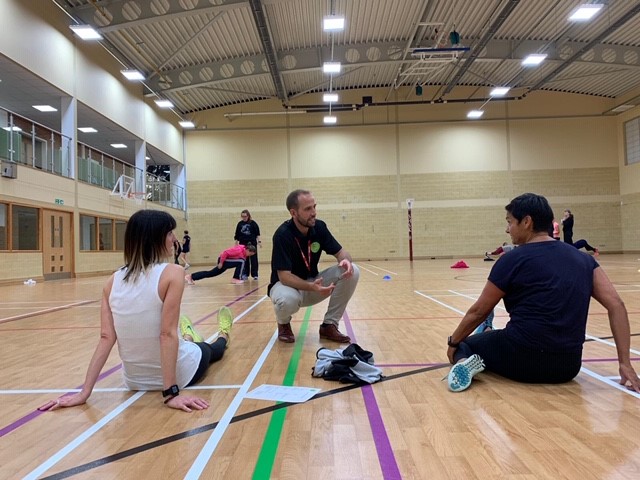 Sports coaches in Oxfordshire are being invited to learn more about how knee injuries can be prevented at grassroots level in youth sport with the help of two local charities.
Oxford United in the Community has partnered with Power Up To Play to deliver a free masterclass on the simple but effective steps to enhance young player welfare through the prevention of serious knee injuries.
The one-hour session is completely free to attend and will be held at Oxford United's training ground on the Horspath Road from 7.30pm until 8.30pm on Friday, November 17.
It will explore the issues, consequences and impact of knee injuries in youth sport and educate guests about how risk can be minimised during participation through warm-up exercises, good knee positioning and landing techniques and a question-and-answer session.
Power Up To Play's medical professionals will also touch on the latest data regarding knee injuries in youth sport, which have increased 29-fold since the turn of the millennium. As an added bonus, all attendees will receive a free ticket to watch an Oxford United home fixture as a thanks for taking part and a second event at the training ground is planned on Friday, February 9.
Dr Kate Jackson, a trustee of Power Up To Play and sports and exercise medicine doctor, encouraged community coaches in Oxfordshire and its surrounds to take advantage of the charity's knowledge and expertise.
"The seriousness and impact knee injuries can have on young people's lives can be easy to underestimate," said Kate. "Preventing all injuries is entirely impossible in sports participation.
"But coaches have a responsibility to explore every precaution possible to prevent unnecessary injury so young players aren't exposed to additional risk while playing and training. Using a structured, warm-up regularly not only reduces injuries but also strengthens performance so it's a win-win for coaches and players.
"It's our goal to educate as many grassroots sports coaches as possible and help them understand our view that appropriate warm-up routines and knowledge of injury prevention should fit into the same bracket as wearing a helmet while riding a bicycle.
"Coaches in the professional game hold this knowledge, but it doesn't always filter down to the foundation aspect of participation which is where we can help. A knee injury doesn't solely affect a young person's chance to play sport, it can affect their social life and prompt long-term health consequences too.
"We're really pleased to work with Oxford United in the Community and spread our knowledge of knee injury prevention and hope to see plenty of local grassroots coaches on the night."
Endorsed by the British Orthopaedic Association and other key industry groups and forums, Power Up To Play's work is estimated to reduce serious knee injuries in young players and athletes by up to 50%.
Rob Porter, Lead Community Coach at Oxford United in the Community, added: "Safety is the number one priority of any coach operating at any level across all sports.
"Knee injuries have been a hot topic in the coaching sector of late, particularly with a large number of high-profile athletes having their careers directly affected by them.
"We're looking forward to exploring the topic more with Power Up To Play this week and would encourage anyone yet to sign-up to Friday's session to do so as soon as possible."
Only limited spaces remain available to book for Power Up To Play's session at Oxford United's training ground on Friday, November 17. Coaches can book on by emailing [email protected].
Newsletter
Sign up to the OUitC newsletter today to receive the latest news, events, information and offers directly to your inbox.