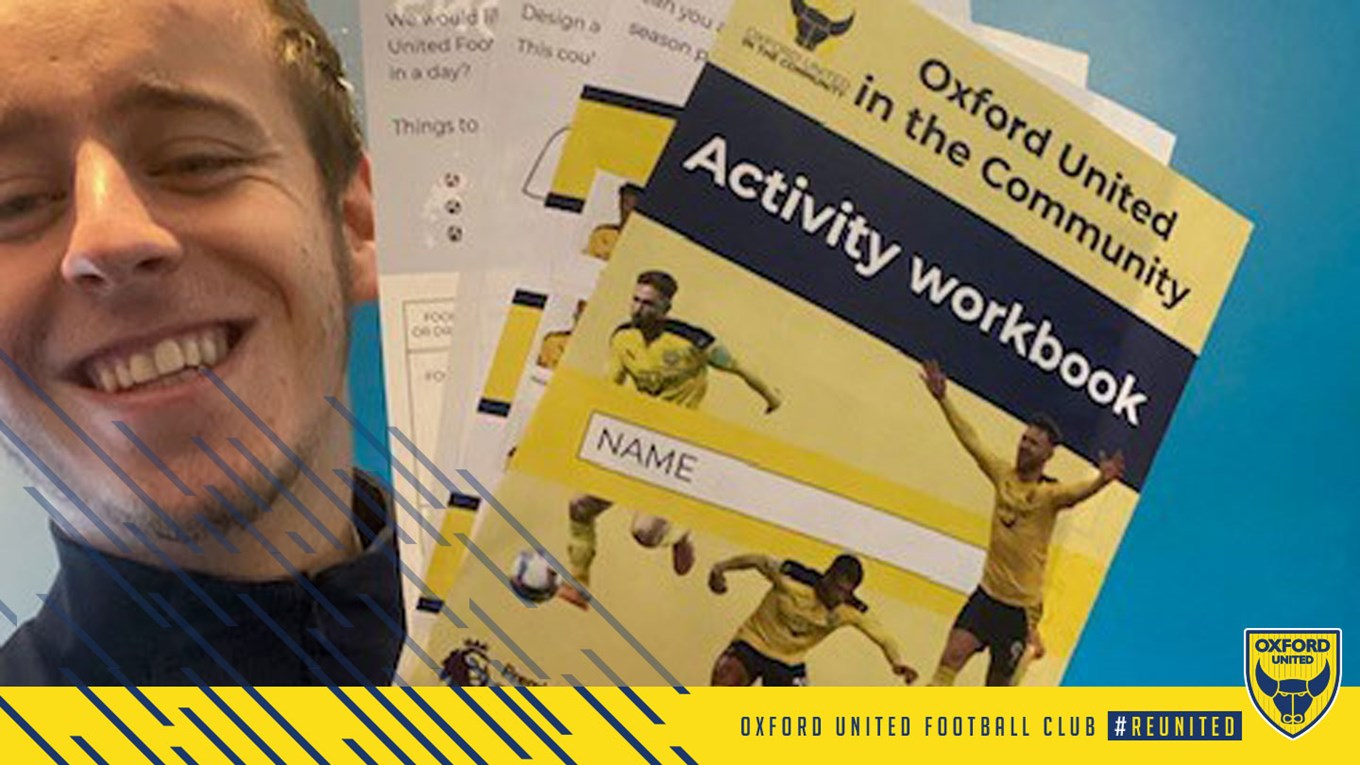 Oxford United In The Community Set To Support Hundreds Of Lockdown Youngsters Via Home Activity Packs
Oxford United in the Community has launched its latest support programme to help families during lockdown.
It has published the latest edition of its popular activity packs designed to engage youngsters who are learning from home. Produced for primary school students and younger Oxford United fans, the football club's official charity plans to release fresh activity packs fortnightly for youngsters to complete.
Included in the packs, which can be downloaded for free via the charity's social media platforms and are also being sent directly to primary schools across Oxford, are various challenges and puzzles.
The latest edition includes an acrostic poem maker, a letter game, escape the maze with Oxford United Women's striker Emily Allen, an anagram puzzle, crossword, wordsearch and more.
Chris Lowes, Head of Oxford United in the Community, said: "The pandemic has presented many parents with tough challenges as they juggle working from home with home-schooling and the other aspects of lockdown life.
"To many, football acts as an escape from the routines we establish during the week. But in the past year that has been cruelly taken away. The Oxford United in the Community team is doing everything it can to connect with our community and we hope our activity packs can keep youngsters entertained."
The activity packs are also being distributed by ARCH Oxfordshire, an award-winning charity that helps transforms the lives of thousands of children in Oxfordshire by giving them a lifelong love of reading.
The charity has approximately 260 reading volunteers who donate their time to support the literacy and communication skills of 800 children in 120 of the county's primary schools each year.
James Gilmore, who is leading the Oxford United in the Community activity packs scheme, added: "We are so grateful to be supporting young Oxford United fans during these times.
"We are all looking forward to the day we can get back to supporting our club, but in the meantime we want to help youngsters with Oxford United themed activity packs. The support of ARCH Oxfordshire and many of Oxford's schools in helping us to distribute these Oxford United focused fun activity packs has been brilliant and we are incredibly thankful."
The charity will release its next activity pack on Monday, February 15. The latest pack will include the opportunity for young supporters to pitch their questions to United players Matty Taylor and Brandon Barker.
To access Oxford United in the Community's latest activity pack, click here.
Alternatively, parents can follow the charity on Twitter @OUFCCommunity to access the latest downloadable files.
Newsletter
Sign up to the OUitC newsletter today to receive the latest news, events, information and offers directly to your inbox.