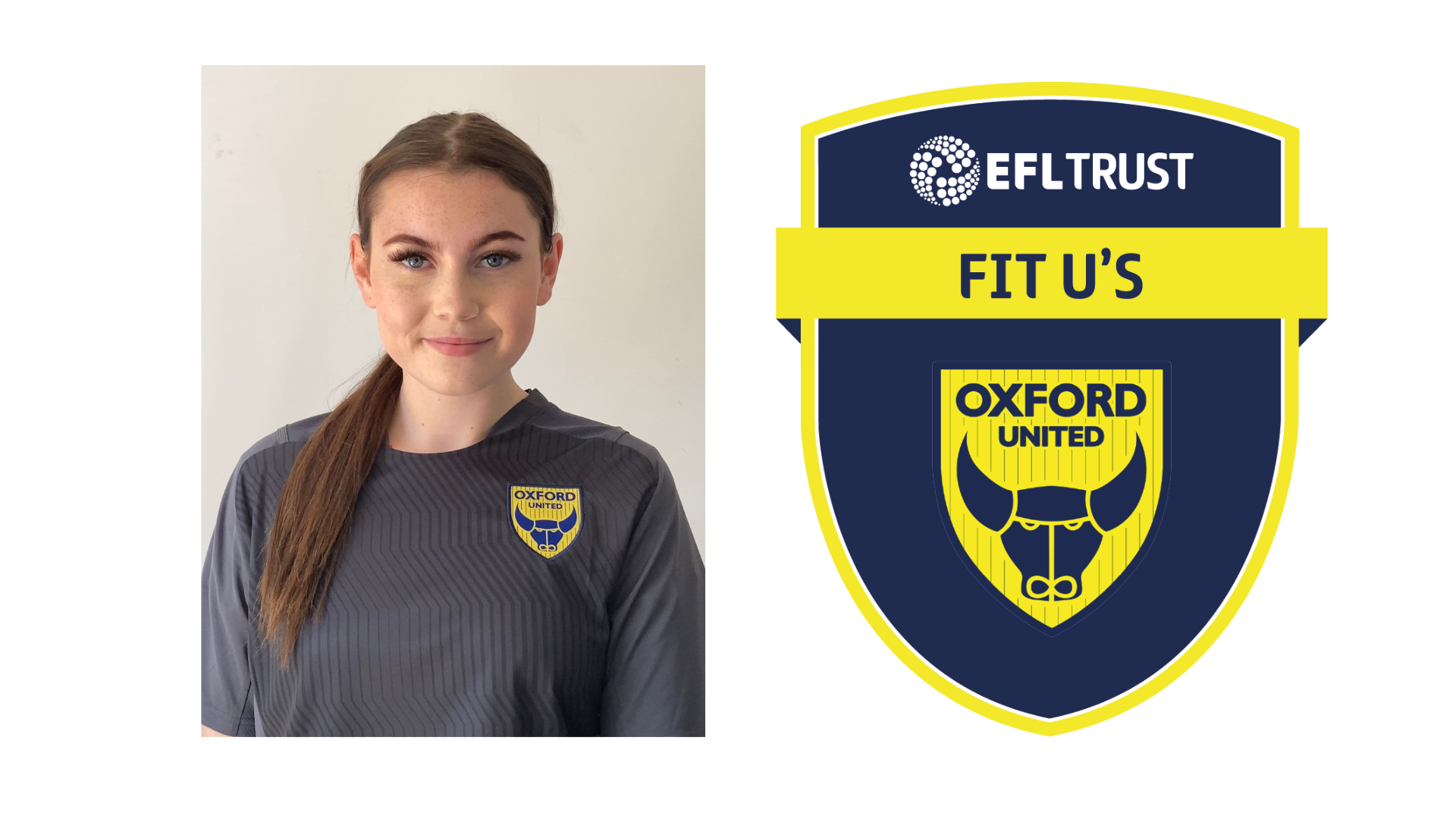 A countywide health and wellbeing service launched by Oxford United in the Community will significantly reduce the risk of cardiovascular disease for hundreds of participants.
That's according to the charity's new Health and Wellbeing Service Lead Rebekah Stapley, who will be responsible for delivering 'Fit U's' – a fully funded 13-week programme designed to help people lose weight, quit smoking and increase levels of physical activity.
The former Warriner School student has joined the charity after graduating from Buckinghamshire New University with a degree in sport and exercise science.
After losing her grandfather and lifetime Oxford United supporter to a sudden heart condition, Rebekah believes free services like FIT U's can inspire people to live healthier lifestyles through the power of football.
"I'm really pleased to join the Oxford United in the Community team and look forward to helping people make healthy and positive changes to their lifestyle," said Rebekah.
"It can be quite daunting for people we're targeting to make such significant changes to their eating, exercise and general routines. Our goal is break down those barriers by using the power of the Oxford United badge to our advantage and encourage individuals to enrol onto our fun, inclusive and engaging programme.
"There was no provision like this in Oxfordshire before my grandfather passed away, and I know as a huge Oxford United fan that FIT U's could have helped him make small changes to his lifestyle.
"I have no doubt that our new health and wellbeing service will help to reduce the risk of cardiovascular disease across the county. Our goal is to engage with as many people possible during this delivery period and inspire healthier and happier lives across the county."
FIT U's will be delivered to up to 240 participants in eight 13-week waves across Oxford, Abingdon and Banbury over the next nine months.
The programme is targeted to individuals who do little to no physical activity. Weekly sessions lasting 90 minutes will teach the theory behind living a healthier lifestyle and include fun activities which inspire participants to get moving.
The new service has been made possible thanks to funding received from Oxfordshire County Council via Oxfordshire Community Foundation's Healthy Hearts scheme as well as the EFL Trust and Sport England. The scheme aims to improve the public's cardiovascular health after latest figures revealed a quarter of all deaths are caused by cardiovascular disease (CVD).
Chris Lowes, Head of Oxford United in the Community, added: "We're really pleased to welcome Rebekah to our team following the launch of our new health and wellbeing service.
"Her passion for tackling cardiovascular disease locally coupled with her personal experiences of the issue makes Rebekah a great fit for delivering this revolutionary programme.
"It is proven many cardiovascular disease cases are preventable and can be reversed by increasing activity levels, eating healthily and drinking responsibly. FIT U's will teach this and more and help us fulfil our long-term commitment to inspire happier, healthier and better-connected communities."
To register your interest to enrol onto the FIT U's programme, email [email protected]
Alternatively, call our Health and Wellbeing Lead, Rebekah Stapley, on 07456 804313
The programme will be launched in the coming weeks in Banbury and Oxford and in Abingdon later this summer. Timings and locations will be confirmed soon.
Newsletter
Sign up to the OUitC newsletter today to receive the latest news, events, information and offers directly to your inbox.