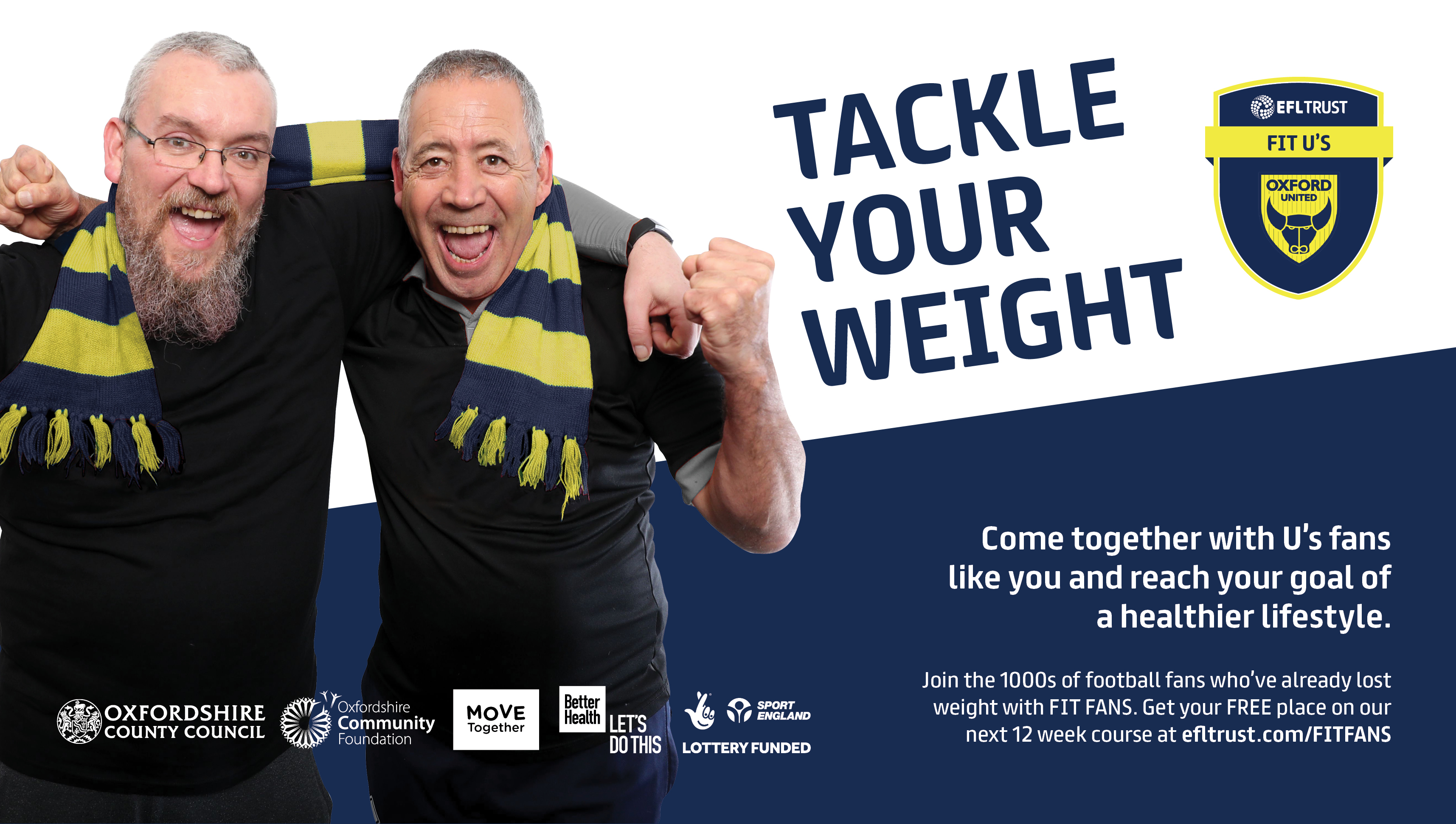 A free programme which will tackle cardiovascular health and weight loss in Oxfordshire this winter has been launched by Oxford United in the Community – the football club's charity.
Starting on Tuesday, November 15, and running for 13 weeks, FIT U'S combines theory behind living a healthy and active lifestyle with fun and engaging activities for participants aged 35-65.
The programme is delivered in partnership with Oxfordshire County Council via Oxfordshire Community Foundation's Healthy Hearts scheme, the EFL Trust and Sport England and is open to male and female participants at all stages of their weight-loss journey.
The charity's winter programme will be held every Tuesday from 5.30pm – 7.15pm for men and 7.30pm – 9pm for women at the Rose Hill Community Centre in Oxford with capacity for up to 60 individuals to enrol.
Rebekah Stapley, Health and Wellbeing Service Lead at Oxford United in the Community, encouraged people to sign-up to the programme which is already positively impacting local people.
She said: "It doesn't matter if you are a diehard Oxford United fan or have never watched a game of football in your life, FIT U'S is here to help you take the first steps in fulfilling a happier, healthier, future.
"Our one of its kind programme is designed to work with those who do little to no physical activity each week and wish to lead a healthier lifestyle.
"Already, we have witnessed first-hand the power of FIT U'S and its ability to inspire lasting change through our first wave participants who will graduate in the coming weeks.
"We're now on the lookout for our next group of people so we can continue our mission to tackle cardiovascular disease rates locally."
Terry Winter was one of the first people to enrol onto FIT U'S when the programme launched in August.
The 53-year-old lifetime Oxford United fan has battled to lose weight since being diagnosed with high blood pressure while carrying a leg injury which has prevented him from running and cycling.
A former Military Policeman in the RAF, Terry has lost over half-a-stone since joining FIT U'S and encouraged fellow United supporters to sign-up and begin their journey to a brighter, healthier, future.
"FIT U's is a fantastic programme which makes weight loss fun and educational while connecting like-minded people who all share a common goal," said Terry. "Rebekah and the team are great at making everyone feel welcome so our weekly sessions are something we can look forward to.
"Not only are we taught about the importance of exercise while working together as a group, but we also learn about nutrition and how both elements are key in unlocking a balanced, healthy, lifestyle.
"If you wake up in the morning and find you're out of breath or have aches and pains, then now is the time to change your life and it's only you who can take that first step.
"The programme is fun, open to anyone aged 35-65, and best of all is completely free of charge. Excluding the weight, you have nothing to lose!"
To register your interest to enrol onto Oxford United in the Community's second FIT U's wave, email [email protected] or visit the EFL Trust website for further information.
Alternatively, you can contact Rebekah directly via 07456 804313 to learn more about the programme and how it can inspire you to make positive lifestyle changes for good.
Newsletter
Sign up to the OUitC newsletter today to receive the latest news, events, information and offers directly to your inbox.