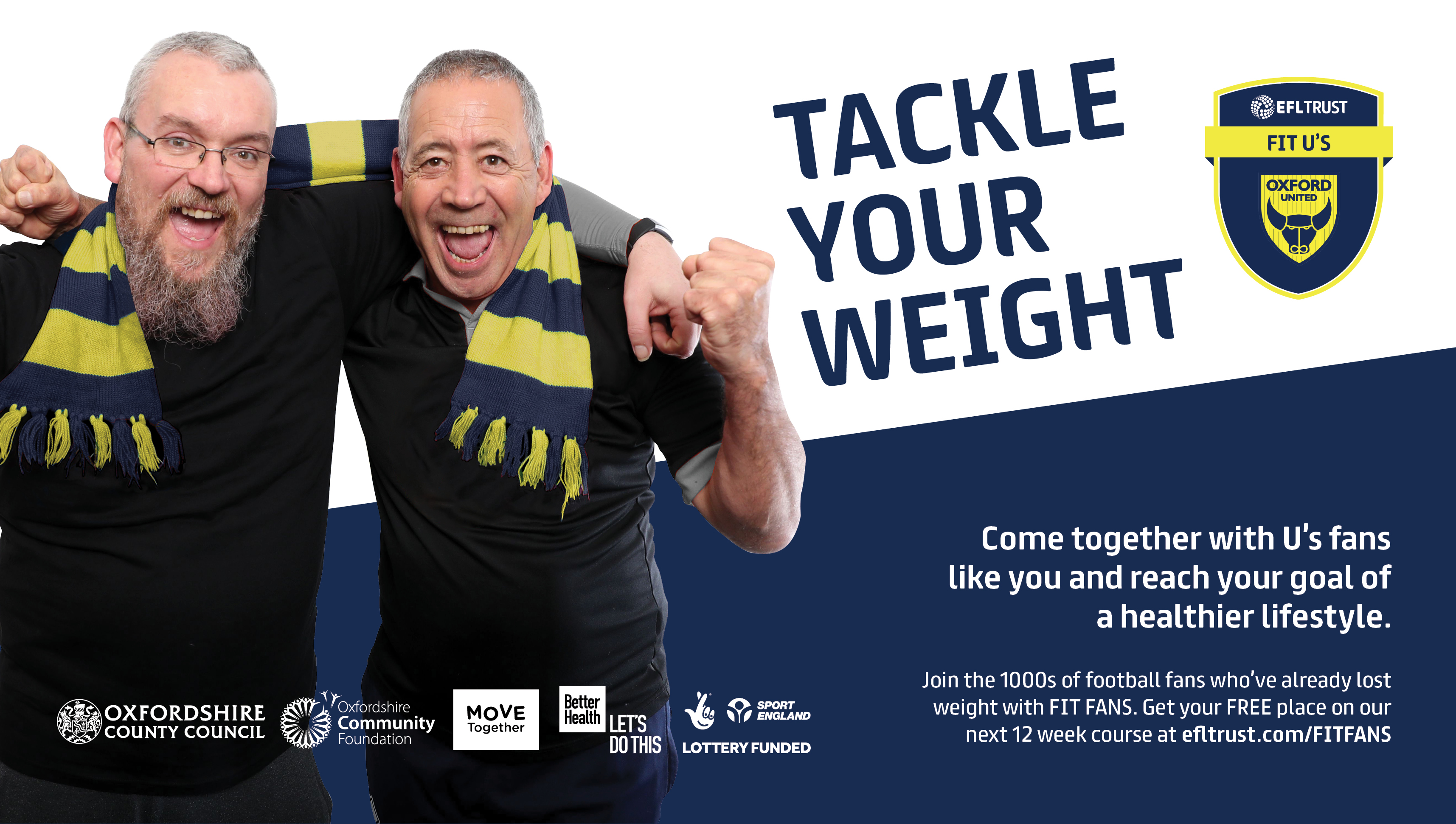 A "one of its kind" fully funded programme designed to tackle cardiovascular disease rates is to launch in Oxfordshire this month – and participants are being encouraged to sign-up.
Delivered by Oxford United in the Community, FIT U'S is a free 13-week course which combines theory behind living a healthy and active lifestyle with fun and engaging activities.
Participants will receive a ticket to watch Oxford United as an incentive for programme completion, win t-shirts and join an end of programme celebration.
The charity has announced the first of eight countywide programmes will be delivered at Easington Sports FC in Banbury on Friday evenings between 6.30pm-8pm from July 15.
A second programme will also launch on Tuesday evenings from July 19 (6.30pm-8pm) in the Bill Buckingham Room at Oxford's Rose Hill Community Centre.
Both programmes have capacity to work with up to 30 individuals who wish to make positive changes to their lifestyle by increasing levels of physical activity, losing weight or quitting smoking.
Rebekah Stapley, Health and Wellbeing Service Lead at Oxford United in the Community, said FIT U'S presents a unique and rare opportunity for people to reduce their risk of cardiovascular disease (CVD) in a fun and supportive environment.
"FIT U'S is revolutionary programme which can inspire and support individuals to make lifechanging decisions concerning their cardiovascular health," said Rebekah. "Our programme is designed to work with those who do little to no physical activity each week and wish to lead a healthier lifestyle.
"We understand making such significant changes to our eating, exercise and general routines can be quite daunting. It's why FIT U'S has been specifically designed to break down barriers individuals might face so together we can work to tackle CVD rates locally.
"The launch of FIT U'S is an important milestone for Oxford United in the Community and our ambition to provide every person in Oxfordshire with a positive connection to the football club. It brings a very successful national programme to the county for the first time.
"Whether you are a U's season ticket holder or have never watched a game of football before in your life, FIT U'S is for you and our team can help you take the first steps in fulfilling a happier, healthier, future."
The charity hopes to attract 240 participants to enrol onto its eight separate courses which will be delivered at Easington Sports FC, Rose Hill Community Centre and a location in Abingdon over the next nine months.
Delivery has been made possible thanks to funding from Oxfordshire County Council via Oxfordshire Community Foundation's Healthy Hearts scheme plus the EFL Trust and Sport England.
Rebekah added: "Many cardiovascular disease cases are preventable and can be reversed by increasing activity levels, eating healthily and drinking responsibly. FIT U'S teaches all of this and more.
"If you, a friend or someone you know could benefit from our free support, I would encourage you to drop our friendly team a message to see how we can help shape your future for the better."
To register your interest to enrol onto the FIT U's programme click here, email [email protected]
Alternatively, call our Health and Wellbeing Lead, Rebekah Stapley, on 07456 804313
Oxford United in the Community would like to advise only male participants can enrol onto our launch programmes in Banbury and Oxford. Details of our first female programme will be revealed soon.
Newsletter
Sign up to the OUitC newsletter today to receive the latest news, events, information and offers directly to your inbox.