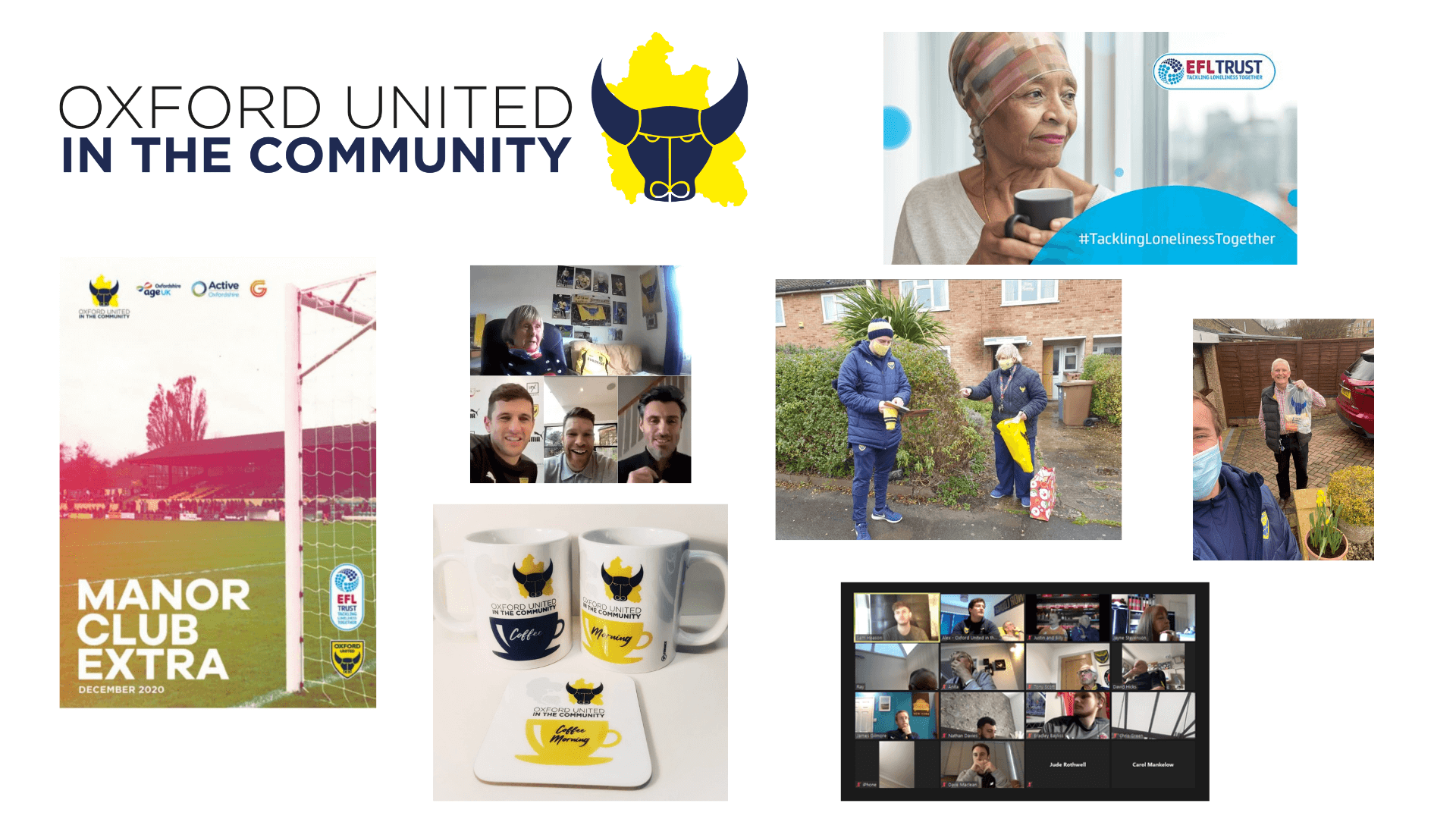 Today marks the 2021 EFL Day of Action, where we celebrate the positive impact Football League club charities make in our communities.
At Oxford United in the Community, over the last 12 months we have focused on delivering positive social impact to help people during the pandemic. It has ensured we have inspired healthier, happier and better-connected community via engagement and football.
Key areas of our activity have included support the older generation during the pandemic to cope with feelings of loneliness and isolation.
In August, the English Football League Trust received £810,000 from the Department for Digital, Culture, Media and Sport to support EFL Club Community organisations in connecting older people at risk of loneliness.
Oxford United in the Community received funding which meant we could deliver our Tackling Loneliness Together campaign. We created 'The Manor Club Extra' in partnership with Age UK Oxfordshire and Active Oxfordshire. Free-to-access interviews with charity patrons James Constable and Les Robinson, founders Malcolm Elias and Peter Rhoades-Brown and the voice of OUFC Nick Harris have since been uploaded to YouTube. We also created and distributed brochures and conducted support telephone calls to older members of our community.
We also broadened our reach via weekly virtual coffee mornings and matchday watch-a-longs. Last night, teenagers on our Community Kicks programme joined members of the Tackling Loneliness Together Over 65s group to watch United take on Shrewsbury Town in League One.
Chris Lowes, Head of Oxford United in the Community, said: "Each year, the EFL Day of Action helps highlight the outstanding work of clubs and their community partners across the country who have engaged positively with their communities.
"In this past year, a big focus for us has been helping reduce loneliness among the older generation in our community. The response to our campaign has been fantastic. The videos were very effective, with many older supporters enjoying the nostalgia via professionally produced videos.
"Our Zoom-based coffee mornings and matchday watch-a-longs have been an invaluable escape for supporters too, with many forming new friendships with fans of opposing teams that have faced similar challenges. The commitment to community engagement by our charity in the last year has been outstanding, and I'm proud my colleague's contribution and the positive social impact they have delivered."
Oxford United in the Community helps inspire people to live happier and healthier lives in better connected communities using the power of football. Last year it engaged with over 2,500 people in Oxfordshire.
To find out more about Oxford United in the Community's virtual coffee mornings and matchday watch-a-longs and how you can get involved or register someone you may know to join the conversation, please email Alex Blane via: [email protected].
Newsletter
Sign up to the OUitC newsletter today to receive the latest news, events, information and offers directly to your inbox.