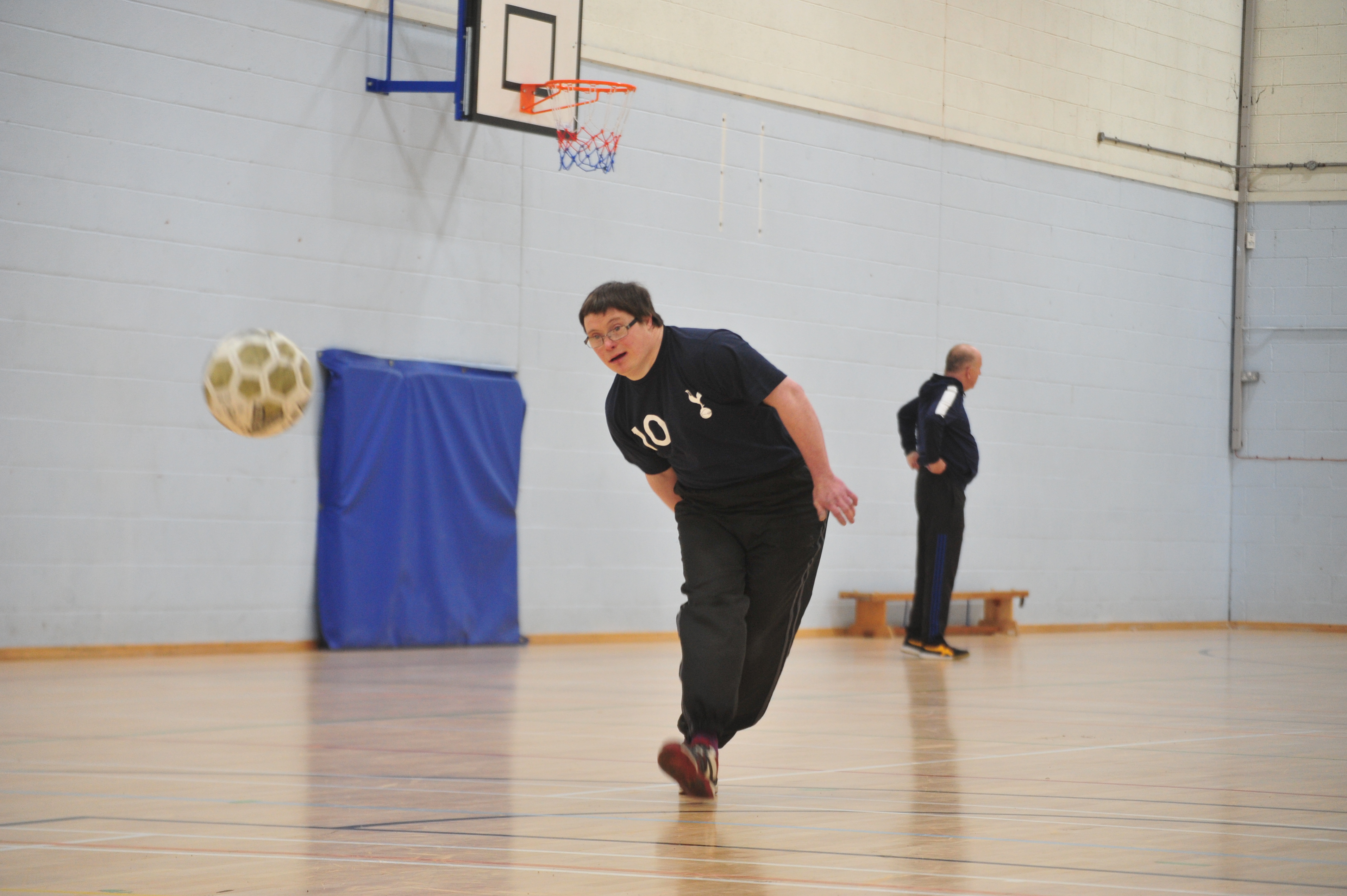 A proud mother whose sports-mad son is thriving at Oxford United in the Community's football sessions for the disabled is encouraging others to sign-up to the programme.
She moved to Oxfordshire several years ago with her son who is a regular at the charity's weekly disability football sessions delivered in partnership with Abingdon and Witney College.
He lives with Down's syndrome, a condition impacting one in 700 babies that affects how their body and brain develops. The 39-year-old – who supports clubs including Oxford United, Manchester United and Southend United – now trains with likeminded individuals with support from the charity's experienced and qualified coaches.
Sessions take place every Wednesday from 10am in the main sports hall of the college's Abingdon campus with delivery forming part of Oxford United in the Community's work to inspire happier, healthier and better-connected communities via football.
Drills and team-based activities help participants develop skills which can be applied in the real world such as teamwork, communication and problem solving.
She said provisions of this kind are essential to the mental and physical wellbeing of football enthusiasts who might be limited by opportunities due to their disability.
"My son is the definition of a sports enthusiast," she said. "He'll watch all sports on TV and has thrown himself into all types of challenges through his life including horse riding which he sadly had to give up.
"When we were contacted about Oxford United in the Community and Abingdon and Witney College's new football sessions, it really interested him and he's loved being part of the group since.
"It's not only a great social outlet, but also keeps him active which is so important to anyone's physical and mental wellbeing. He's made a bunch of new friends and provisions of this kind are essential to Oxfordshire's disabled community."
She believes much more can be done locally to engage disabled people with sport and activities after struggling to source suitable provisions for her son since moving to the area.
In particular, she has noted a major drop in the number of opportunities since the COVID-19 pandemic, which forced all existing provisions to temporarily close. Many of which have not reopened.
Her comments come after Sport England statistics showed disabled athletes are almost twice as likely as non-disabled people to be physically inactive while 77% of disabled people would like to be more active.
"We've noticed a significant change to local opportunities since the COVID-19 pandemic," she said. "Many clubs and programmes now no longer operate, and it's a big challenge for parents whose children live with a disability.
"Society is constantly evolving and there has been a great focus in recent years on improving accessibility and inclusivity both professionally and for leisure purposes. But right now, finding suitable activities for him is very hard.
"Oxford United in the Community's disability football programme is helping to change this and I would encourage any parent in a similar position to myself to let their child know about the sessions and go for it.
"Come along and get involved. The sessions are delivered by a fantastic group of professional and qualified coaches who can cater for all needs. He hasn't looked back since joining and neither have we."
To register your interest in Oxford United in the Community's disability football sessions, please email [email protected]. Sessions last two hours and can accommodate up to 20 participants, no previous football experience is required.
Newsletter
Sign up to the OUitC newsletter today to receive the latest news, events, information and offers directly to your inbox.