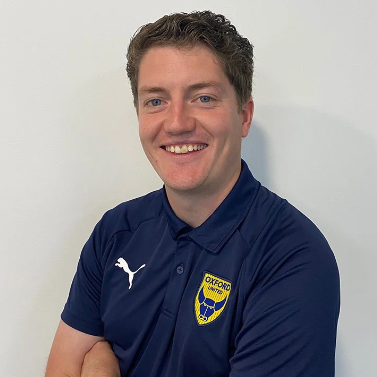 Alex Blane, Development Centre Manager at Oxford United in the Community, reflects on the achievements of male and female players across the 2022-23 campaign
The power of the Oxford United badge and its ability to inspire people to develop new skills and connect with likeminded people is evident across our entire Development Centre.
And this year marked new beginnings for many as we launched two new squads – U7s boys and U10s girls – to enhance our provision and commitment to improving players' technical and tactical knowledge of the game.
Across the 2022-23 campaign, over 250 players representing squads from U7s to U16s trained once each week and participated in fixtures against other professional clubs' development centres including Northampton, Brentford, Coventry and Stevenage.
It's a huge operation, and firstly a big thank you must go to our coaches and officials who make our work possible in addition to the parents and carers of our players for transporting them to and from training.
On the pitch, progression across all squads from our first fixtures during the October half-term to our final games in May was noticeable. As part of players' tactical development, we've actively encouraged them to consider how they can implement in-game strategies into their style of play.
Dominating possession, playing through each third and passing out from the back sit within this development bracket. Not only are these strategies applied in the professional game, but it actively enhances players' ability to communicate with one another, work together as a team and problem solve in real time, building the social side.
These are social skills which can be applied not only on the pitch but off it too. Seeing our squads strengthen bonds and apply new tactical knowledge of the game has been really rewarding personally.
Another element we can be proud of is the volume of players who have successfully transferred from our skills centre.
While the Development Centre operates on an invitation only basis, our Skills Centre was open to players aged 4-12 throughout the season of all abilities with programmes happening across the county. We prioritise creating a fun, player-centred, environment suitable for those with no previous playing experience and existing members of school and grassroots clubs.
In our first year of operating an U7s Development Centre team, more than 90% of players joined as a direct result of their progression in a grassroots environment which is really encouraging.
Delivering additional playing and training opportunities only assists with enhancing the technical and tactical abilities of those who show a commitment to taking their game to the next level, which is one key element behind our Development Centre.
We've also enhanced opportunities for graduates of our Development Centre.
The entire team at Oxford United in the Community welcomed Tommy White who completed a work experience placement in July. Tommy assisted with our U15s Development Centre squad, school delivery and Premier League Kicks programme plus completed the EE Playmaker by England Football course.
Tommy is also a qualified referee and has been getting stuck in with officiating fixtures for our younger Development Centre squads. U16s graduates Jess Biggin and Amelia Davis also assisted with our Girls Only Holiday Camp delivery in June so they could develop a stronger understanding of what it's like being a professional coach.
It's key we support players' development on the pitch, but equally important we explore opportunities off it too for those who show interest in a specific area of our delivery.
The new Development Centre season is now only a month away and on behalf of our coaches we look forward to seeing everyone then.
Alex Blane, Development Centre Manager.
Newsletter
Sign up to the OUitC newsletter today to receive the latest news, events, information and offers directly to your inbox.