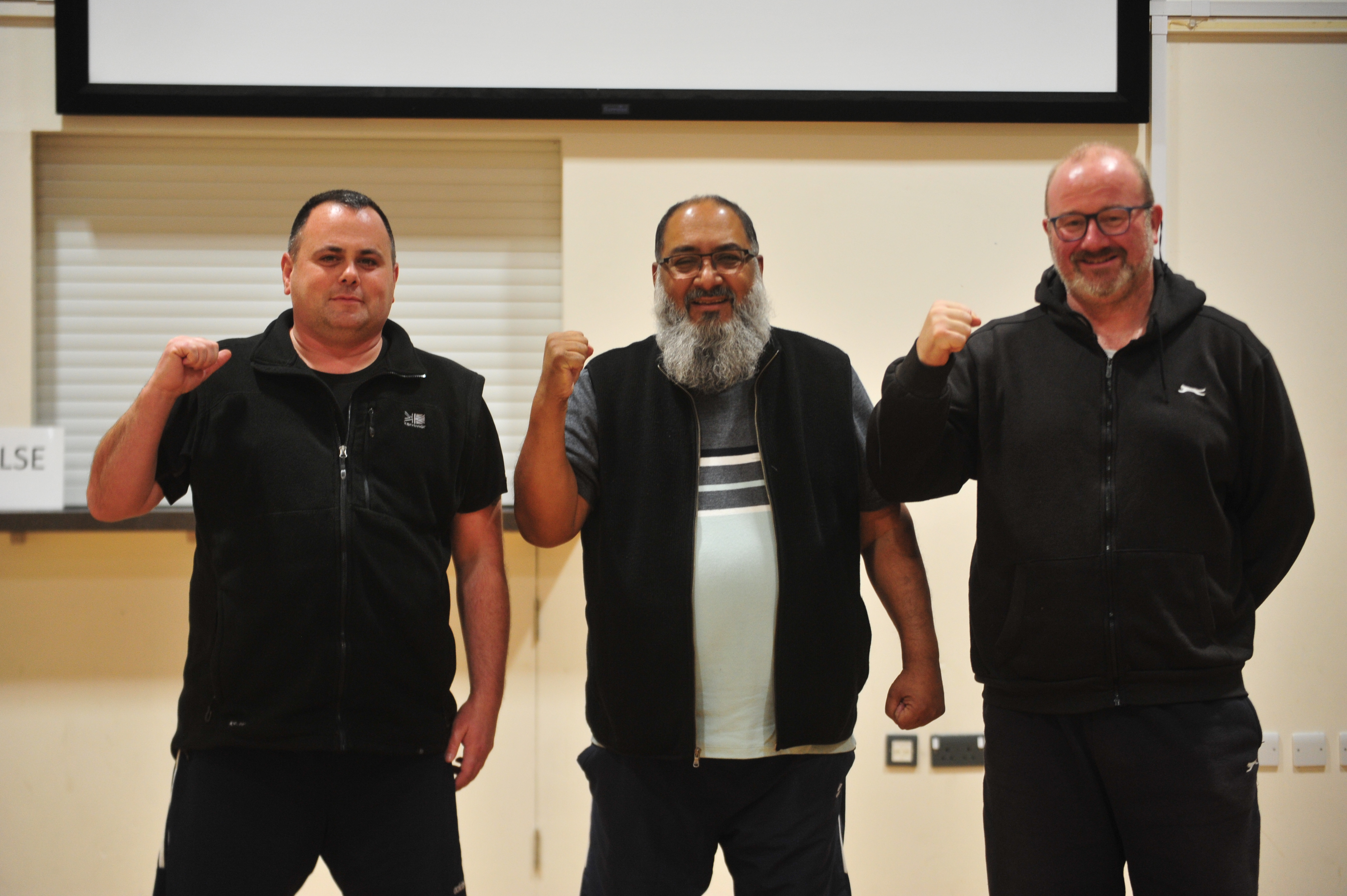 Three men determined to shed the pounds and live a healthier lifestyle have setup Oxford's newest walking club after enrolling onto a free health programme for men and women.
Saj Rana, Terry Winter and Chris Jones meet at Risinghurst Cricket Club every Thursday from 6.30pm as part of a shared ambition to be more active, get fitter and lead a better-connected life.
The trio met via Oxford United in the Community's FIT U'S programme. The free 13-week course was launched this summer and combines theory behind living a healthy and active lifestyle with fun and engaging activities.
Saj, 58, hopes to welcome more members to the club this winter while the charity recruits people to enrol onto its next FIT U'S programmes, which start on November 15.
"It started off as just a one-off walk, but now we meet every week and the health benefits are fantastic," said Saj. "Although we had never met before starting FIT U'S, Terry, Chris and myself share a lot in common and combining talking and walking really accelerates the time.
"We'll be 6,000 steps into our walk, equivalent to burning 300 calories, and barely noticed we had started. It makes a huge difference exercising in the company of likeminded people, but finding something to facilitate this isn't always easy if you're overweight or not comfortable going to the gym.
"Typically, we'll walk for 45 minutes but there are no set rules or commitments. It would be fantastic to welcome more people, especially through winter when sitting at home watching TV is a far easier decision to make."
Delivered in partnership with Oxfordshire County Council, Oxfordshire Community Foundation, the EFL Trust and Sport England, FIT U'S sessions take place at the Rose Hill Community Centre and are open to all people aged 35-65.
Banbury-based exercise and nutrition expert Rebekah Stapley leads the programme, which aims to tackle cardiovascular disease (CVD) rates locally.
It comes after figures revealed CVD causes a quarter of all deaths in the UK and is the leading cause of premature deaths in people experiencing homelessness, mental health issues and those living in deprived areas.
Saj added: "I feel much healthier for joining FIT U'S. I have two beautiful grandchildren and want to see them grow up and spend as much time with them as possible.
"It does cross my mind occasionally how many years do I have left, and how can I improve my lifestyle to ensure I live for as long as possible.
"Eating the right foods and drinking responsibly while being active by getting the body moving is the best solution, and FIT U'S has given me the motivation needed to make those changes.
"I found it very reassuring that every person can set their own individual goal and there is no pressure or expectations at our sessions. Turning up is an achievement in itself and the social benefits are equally important.
"I'd encourage anyone considering making simple but effective changes to their lifestyle to sign-up now and get involved – you've got nothing to lose."
Oxford United in the Community's FIT U'S winter wave begins at Rose Hill Community Centre on November 15 and will run every Tuesday for 13 weeks. Sessions last 90 minutes and begin at 5.30pm for men and 7.30pm for women.
To reserve your free space, email [email protected] or visit the EFL Trust website.
Newsletter
Sign up to the OUitC newsletter today to receive the latest news, events, information and offers directly to your inbox.