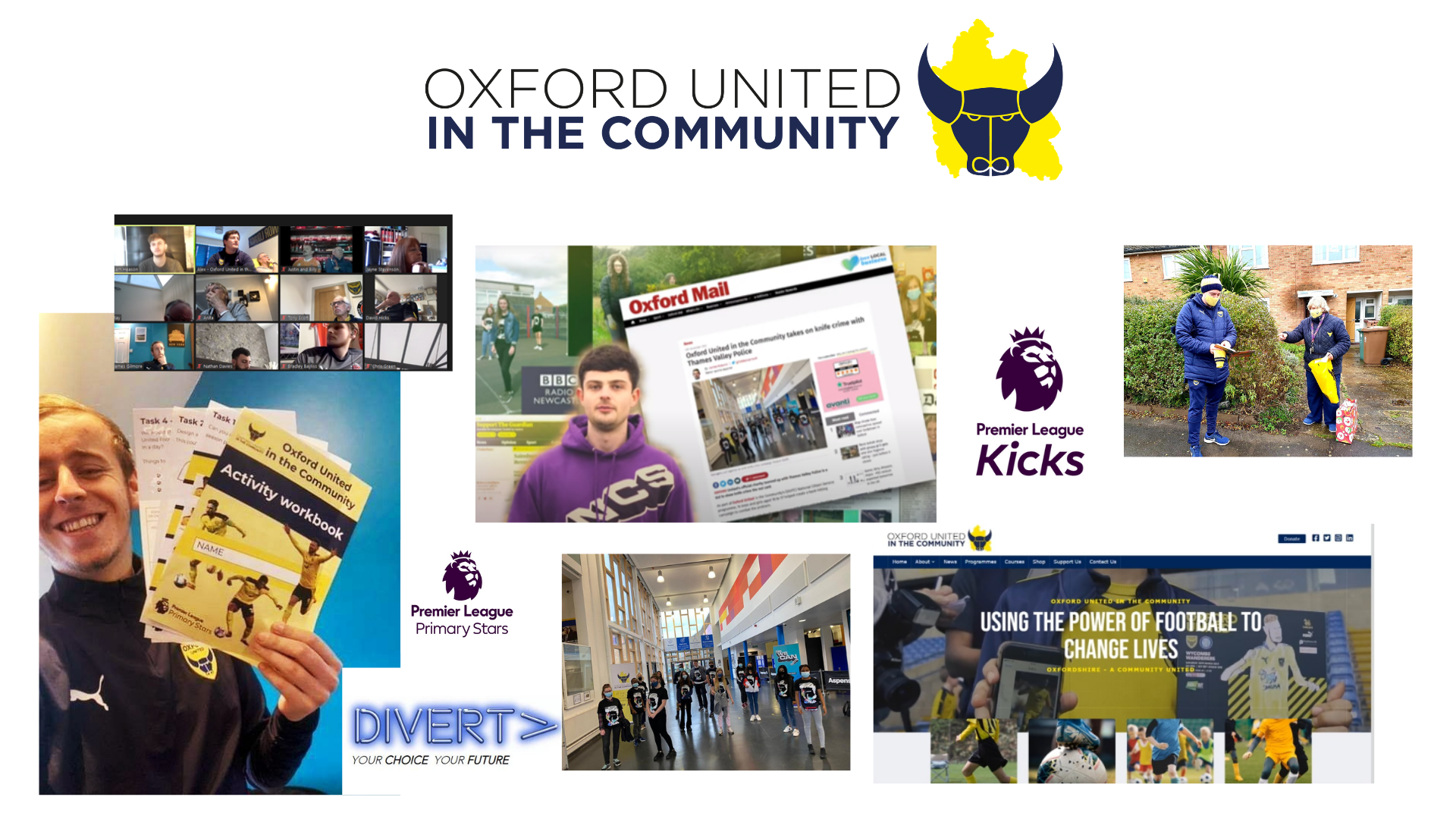 By Christopher Lowes, Head of Oxford United in the Community
This week the country took time to reflect on the events of the past year by hosting a minute's applause and creating a 'beacon of remembrance' by holding candles and torches in memory of those we have sadly lost.
On behalf of everyone at Oxford United in the Community we would like to extend our sympathies and thoughts to everyone who has been adversely impacted by the pandemic.
While the anniversary of the country first going into lockdown was marked with reflection, it is important too to celebrate the outstanding contribution of our NHS heroes and key workers.
It is thanks to them and the incredible work producing the vaccine at Oxford BioMedica, a stone's throw from our operational hub, that we can look forward to a brighter, better, future.
At Oxford United in the Community, we have continued our engagement across Oxfordshire during the pandemic to support the mental and physical health of people of all ages through the power of football.
Our programmes and wider social impact activity have been carefully adapted to protect colleagues and those we work with so our core services can continue to operate where possible in a safe environment.
It is remarkable to think our journey through the pandemic started with a series of online challenges that kids could complete from home twice a week. Never did we consider a year later our way of life would remain restricted.
We continued our online engagement through the spring and summer months before launching our summer camps in July. Seeing young people return to the field for the first time was a rewarding moment and a testament to the hard work and dedication of my colleagues.
Summer also saw the launch of the Manor Club Extra, which formed part of our work with the EFL Trust to help deliver the national Tackling Loneliness Together campaign.
Regrettably, the lockdown has heralded an increase in loneliness. Headed by Alex Blane, our project to reduce loneliness among older people across Oxfordshire via virtual coffee mornings, telephone services and the Manor Club Extra videos and brochures has been a tremendous success.
In some examples, it has brought lifelong supporters of Oxford United closer to their club than ever before through virtually meeting players, sharing reflections on seasons of yesteryear with former footballers and building new friendships.
We also expanded our engagement with teenagers in Oxfordshire by delivering National Citizen Service (NCS) programmes which led to Aled Newton joining our team.
Dozens of teenagers took part in the programmes which helped them develop key skills via social action projects to benefit local communities. The programmes are part of a five-year Government-funded project, and spaces for courses this summer are available to book here.
Joining Aled as a new member of the team is Joshua Wilson, who has taken the role of Custody Intervention Coach as part of our DIVERT programme delivery in partnership with Thames Valley Violence Reduction Unit.
DIVERT's aim is to reduce reoffending among young people across Oxfordshire through funded courses aimed at young adults who are being detained having committed an offence. We are confident the power of our football club's badge can help inspire positive change.
Joshua is joining a committed team whose hard work and dedication during uncertain times has helped the charity overcome major challenges and ensure our work will be shaped for the better in future years.
Responding to the third national lockdown, James Gilmore developed activity packs every fortnight to engage primary school students and Oxford United fans with the club via challenges and puzzles that were distributed to schools across Oxford and made available online.
With the support of Ross Layton, we also developed Summer and Winter Games packs in partnership with the EFL Trust and Ferrero to get children moving while they were told to stay at home.
And in November, our engagement with young people across the county was boosted after we received funding from the prestigious Premier League Kicks programme which has been led by Colin Williams.
Though restrictions mean we are currently delivering the programme online, we have structured a COVID-19 secure plan to ensure we are able to return to face-to-face delivery when it is safe to do so.
Bettering communities across Oxfordshire through social impact programmes forms part of our core values at Oxford United in the Community. It is why we recently launched our new strategy 'Oxfordshire – A Community United' to provide every person in Oxfordshire with a positive connection via the football club to inspire happier, healthier, and better-connected communities.
Over the next three years, it is our aim to establish our operational structure that will see programmes delivered in 15 of Oxfordshire's towns.
As restrictions ease once more, we can look forward to gradually implementing our new vision and making a real difference across the county with renewed focus and determination.
On behalf of the team, I would like to thank everyone we have worked with in the last year and wish everyone a safe rest of the year.
Newsletter
Sign up to the OUitC newsletter today to receive the latest news, events, information and offers directly to your inbox.