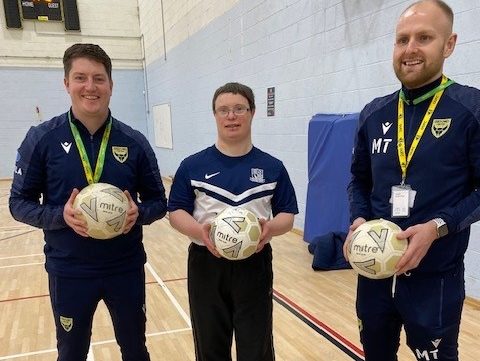 Oxford United in the Community has entered a new partnership with Abingdon and Witney College to deliver weekly sessions for football enthusiasts living with a learning disability.
The sessions have been established to increase disability football provisions in Oxfordshire and will be delivered every Wednesday from 10am in the main sports hall of the college's Abingdon campus.
Delivery forms part of Oxford United in the Community's 'Oxfordshire – A Community United' strategy which aims to inspire happier, healthier and better-connected communities by harnessing the power of football.
As part of the arrangement, the charity's coaches will also be supported by Abingdon and Witney College with their Continuous Professional Development (CPD).
The College will host a dedicated workshop which explores learning disabilities and neurodiversity awareness so Oxford United in the Community can upscale its work with individuals requiring specialist support.
Mark Thomas, Social Inclusion Lead at Oxford United in the Community, said the sessions will deliver a much-needed service locally.
"A high number of dedicated sessions for individuals with specific requirements have been lost or moved online in recent years as a consequence of the pandemic," said Mark.
"It's our belief that everyone – regardless of their age, background or ability – should be able to access quality physical activity while developing skills and making new friends.
"Our new partnership with Abingdon and Witney College presents a fantastic opportunity for disabled athletes to get involved and experience these tailored sessions which accommodate participants of all experiences.
"We've been encouraged by the response to our first sessions and hope to establish the programme further through the year."
Sessions teach new techniques which focus on agility, balance and coordination while promoting skills which can be applied outside of sessions such as teamwork, communication and problem solving.
It comes after Sport England statistics showed disabled adults are almost twice as likely as non-disabled people (42.4% against 22.6%) to be physically inactive while 77% of disabled people would like to be more active.
Lee Humber of Abingdon and Witney College added: "We're really pleased to be working with Oxford United in the Community and broaden both playing and participation opportunities for local people living with a disability.
"Provisions of this kind are so important and align with our core values of providing fun, engaging and educational programmes across sport and fitness, the arts and employment.
"This programme has great potential, and we encourage anyone considering getting involved to sign-up now and join in the fun."
To learn more and register your interest in Oxford United in the Community's disability football sessions, please email [email protected].
Sessions last two hours and can accommodate up to 20 participants and no previous football experience is required. Further information about Oxford United in the Community is available via its website – www.ouitc.org.
Newsletter
Sign up to the OUitC newsletter today to receive the latest news, events, information and offers directly to your inbox.