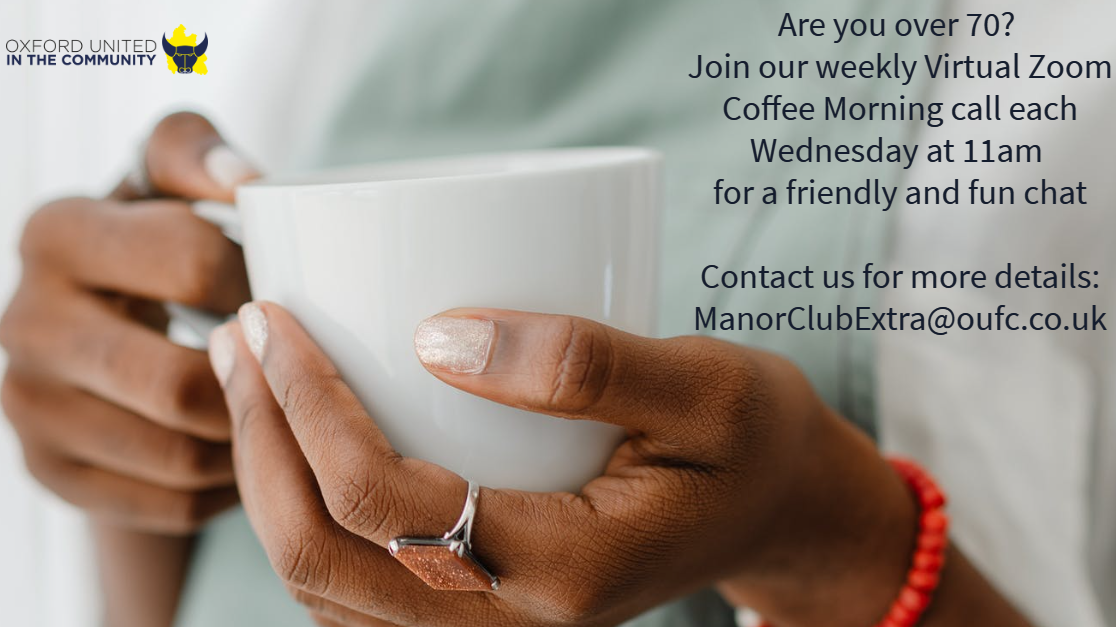 Community team extend scheme in to 2021 to help tackle loneliness
Oxford United in the Community will again provide support to the over 70s during the latest COVID-19 lockdown by hosting a new series of virtual coffee mornings.
As part of its drive to help reduce levels of loneliness among older people via a national 'Let's Tackle Loneliness Together' campaign, the charity will deliver weekly sessions via Zoom to connect those who are most at risk of isolation.
The virtual coffee morning chats are hosted by members of the Oxford United in the Community team. They are held for the over 70s and will take place every Wednesday from 11am.
Chris Lowes, Head of Oxford United in the Community, said: "Our coffee mornings have been a tremendous success since we first launched the virtual meetings as part of our aim to help tackle loneliness among people. They have had a positive impact and are helping people through this challenging time.
"Therefore, decided to extend our service and continue to provide a morale boost to our guests on a weekly basis by talking all things Oxford United over a cup of coffee. Loneliness is a serious issue, particularly during the winter months, and the recent tightening of COVID-19 restrictions means many people continue to be confined to their own surroundings.
"We can't wait to welcome our visitors back and look forward to our weekly catch ups starting this Wednesday."
Alex Blane, Lead Coach and 'Tackling Loneliness Together' project lead for Oxford United in the Community, added: "Our virtual coffee mornings are open for anyone aged over 70 and are an excellent way for people to get together for a chat and some company. We discuss a whole range of topics, not just football.
"We have all been thrilled with the initial response to our meetings and look forward to engaging with more people."
To find out more about Oxford United in the Community's virtual coffee mornings and how you can get involved or register someone you may know to join the conversation, please email Alex Blane via: [email protected]
Newsletter
Sign up to the OUitC newsletter today to receive the latest news, events, information and offers directly to your inbox.