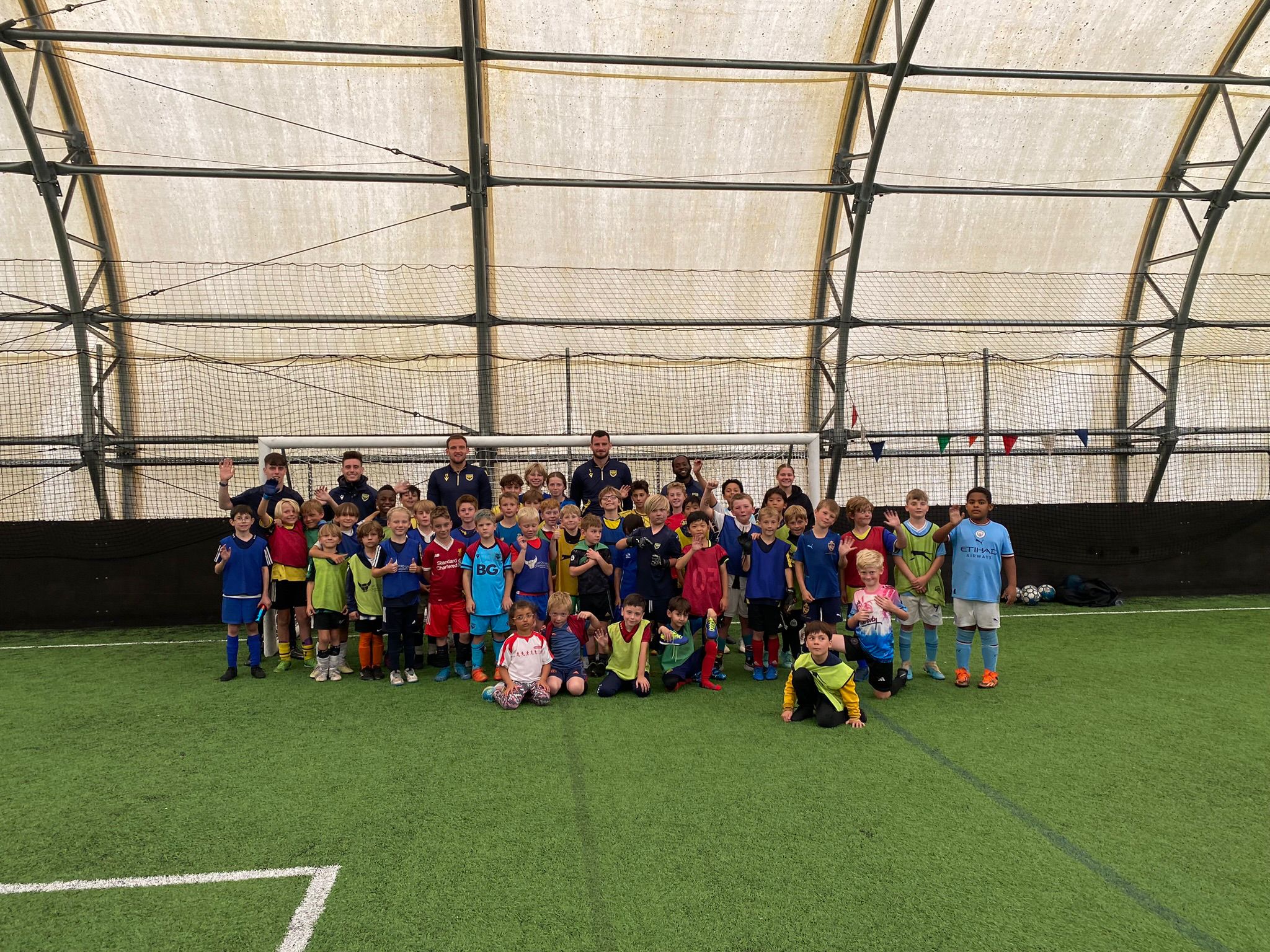 Participants at Oxford United in the Community's Summer Holiday Football Camps had a day to remember when first-team players Simon Eastwood and Elliott Moore paid a special visit.
Both players headed to The Oxford Academy in Littlemore where they met their youngest fans and took part in question-and-answer and signing sessions before enjoying a quick kick about in the 3G dome.
The pair revealed more about life as a professional footballer and were able to offer some key tips and insights into how players can take their game to the next level through hard work, determination and being a team player.
It rounded off a bumper six-week programme of camp delivery for the team behind the football club's official charity, which is based at the training ground.
Rob Porter, Lead Community Coach at Oxford United in the Community, said: "The response to our summer camps this year was excellent, and it was pleasing to see so many youngsters develop both on and off the pitch through the holidays.
"Welcoming Simon and Elliott to our final day of delivery was a real treat and unlocked a fantastic experience for our participants.
"Receiving a pass from Elliott or scoring a goal past Simon are the types of memories which will last a lifetime and epitomise what our work at Oxford United in the Community is about.
"By using the power of the United badge and its players, we are in a privileged position to inspire the next generation and create happier, healthier and better-connected individuals and communities.
"We're very grateful to Simon and Elliott for their time. They had some great conversations and tips for our participants which we know will live long in their memories."
Over 350 children aged 4-13 attended the charity's 12 camps during the holidays which were open to players of all abilities and experiences. Sessions taught new football skills and techniques with a greater focus on developing attributes which can be applied on and off the pitch such as teamwork, problem-solving and communication.
New to this year's delivery was the inclusion of three girls only camps, which were established due to growing demand for female football provisions locally following last year's European Championship triumph for the Lionesses.
United defender Elliott Moore added: "Seeing so many children enjoying their football and training during the school holidays was great to see.
"As first-team players, lots of youngsters living locally look up to us so it's important we do what we can to inspire the next generation with the help of Oxford United in the Community.
"It took me back to my youth and the different stages of a young player's development. We had a lot of fun and hopefully we'll see some new faces pitch side at the Kassam Stadium as the season develops."
Oxford United in the Community's holiday camps will return next month between Monday, October 23, and Friday, October 27, during the autumn half-term break. Full details of each course and the opportunity to reserve your space will be available in the coming days.
Further information about Oxford United in the Community and its work to inspire happier, healthier and better-connected communities across Oxfordshire by harnessing the power of football is available via www.ouitc.org.
Newsletter
Sign up to the OUitC newsletter today to receive the latest news, events, information and offers directly to your inbox.